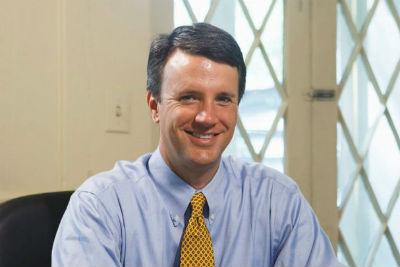 Congressman Ben Cline has been telling a lot of lies about the Inflation Reduction Act, which congressional Democrats passed last week without a single Republican vote.
His claims about the new law raising taxes on middle-income people and on small businesses are debunked by the AP.
But his worst scaremongering comes when he tries to suggest that by increasing funding of the Internal Revenue Service, the law will create an army of IRS agents to harass and threaten ordinary taxpayers.
According to Cline:
[The] package provides $80 billion to double the size of the IRS, adding an army of 87,000 new enforcement agents to spy into Americans' financial accounts and harass taxpayers and small businesses.
In an interview on WFIR radio, Cline raised the fearsome (and ridiculous) prospect of an army of weapons-carrying IRS agents oppressing ordinary Americans. But as the AP reports:
The bill will not create any such army, officials and experts say. Only some IRS employees who work on criminal investigations carry firearms as part of their work.
A division of the IRS called criminal investigation serves as the agency's law enforcement branch. Its agents, who work on issues such as seizing illicit crypto currency and Russian oligarchs' assets, carry weapons, [Treasury Department official Natasha] Sarin said.
There were just more than 2,000 such special agents working at the IRS in 2021, according to agency documents. The branch will get money from the Inflation Reduction Act, but the bulk of the dollars will go toward other areas, according to Sarin.
The bill does not designate money specifically for a large number of armed IRS employees.
In fact many of the new IRS employees will be replacing retiring workers and not all will be involved in enforcement. Many will be helping improve services to taxpayers– like timely answers to questions and timely processing and refunds.
Taxpayer services have deteriorated in recent years due to Republicans like Cline refusing to to properly fund the IRS.
So it's ironic that Cline has complained about the backlog in taxpayer services that this law will address.
Gene Zitver is the author of ClineWatch.