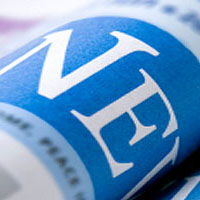 Many people don't test their home smoke alarms as often as they should. That's why "Working Smoke Alarms Save Lives" is the theme of this year's National Fire Prevention Week, Oct. 5-11.
The National Fire Protection Association is hoping to remind everyone to check their smoke alarms once a month.
When a home fire starts, smoke spreads fast and a working smoke alarm can afford families time to get out.
"Smoke alarms are one of the most inexpensive life insurance policies that an individual can have in their homes," said Kevin Bartal, safety coordinator for Virginia Farm Bureau. "For a few dollars a year, a family can purchase and maintain smoke alarms that will provide the needed moments to exit safely under the smoke that collects first at the ceiling level, signaling the alarm."
In 2011, U.S. fire departments responded to 370,000 home structure fires. Those fires caused 13,910 civilian injuries, 2,520 civilian deaths and $6.9 billion in direct damage.
Almost three of five—60 percent—of reported home fire deaths in 2007 to 2011 resulted from fires in homes with no smoke alarms or no working smoke alarms. When they are working, the devices cut the risk of dying in reported home fires in half.
When most smoke alarms fail to operate, it usually is because batteries are missing, disconnected or dead.
An ionization smoke alarm is generally more responsive to flaming fires, and a photoelectric smoke alarm is generally more responsive to smoldering fires. For the best protection, or in homes where extra escape time is needed to awaken or assist others, both types of alarms or a combination alarm are recommended.
For more home fire safety information, visit firepreventionweek.org.