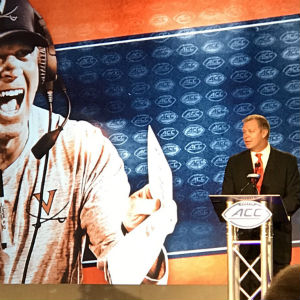 You're comparing Bronco Mendenhall to Tony Bennett, and thinking Bronco's progress through two seasons doesn't match up to Tony's.
And you're right. Bronco is ahead of where Tony was at this stage of his Virginia tenure.
You think I'm crazy, but I'm right.
Through two seasons, Bennett was 31-31 at UVA, a 15-16 first season bookended by a 16-15 Year 2.
Which ended with the meltdown in the ACC Tournament, blowing a 10-point lead to Miami in the final 40 seconds.
It wasn't until Year 3 that Bennett got Virginia to the postseason, and that was a one-and-done NCAA Tournament appearance, and bad first-round loss to Florida.
Year 4 was underwhelming – a late-season win at home over Duke seemed to put the 'Hoos on the verge of a second straight NCAA appearance, before a listless ACC Tournament loss to N.C. State left Virginia on the wrong side of the bubble, and ended with a loss to Iowa in the NIT.
The sum total of the first four Bennett seasons at UVA: one NCAA appearance, one NIT appearance, no meaningful March wins.
And, if you're being honest, and of course you're not being honest, because you were all in on Tony from Day One, but, yeah, even at the midway point of Year 5, after that ugly 87-52 loss at Tennessee that left UVA with a 9-4 record heading into the start of ACC play, you could have been thinking, Here we go again, another NIT team.
You've buried those memories because of what has happened since: that 2013-2014 team finished with 30 wins, and Bennett's teams have gone 104-27 since the end of calendar year 2013, with two regular-season ACC titles, one ACC Tournament title, one Elite Eight, one Sweet 16, two national #1 seeds, et cetera.
But back, way, way back to Year 2: the rebuild was still a glint in Tony's eyes, and as much as you claim now to have seen it coming, you're lying to yourself, because you didn't.
Which gets us back to Mendenhall. End of Year 2, and he's 2-10 and 6-7 in his first two seasons.
The second one ended with a 49-7 beatdown at the hands of Navy in the Military Bowl, capping a 1-6 freefall after a 5-1 start.
That was embarrassing, the way the finale played out, Virginia going scoreless after returning the opening kickoff for a touchdown, getting gashed for a million rushing yards, and manhandled by a team that didn't complete a single pass on the afternoon.
But, what you're missing is, Mendenhall is a year ahead of schedule, if not a couple years ahead.
Bennett didn't have UVA basketball fully turned around, I would argue, until Year 5, because that was when he won his first meaningful March games – three of them in Greensboro, two more in the NCAA Tournament, before the Sweet Sixteen loss to Michigan State.
Years 3 and 4, the meaningful games were Ls, and Year 2, there wasn't a meaningful game.
Year 2 for Mendenhall, and he's already in a bowl game, which, sure, it wasn't a playoff game, but it's at least the equivalent of an NIT game.
And he did it with a team that few of us saw winning more than a couple of games going into the season.
Again, be honest. You looked at the schedule back in the summer, and at best you had William & Mary and UConn as definites, and even UConn wasn't an absolute, because as bad as UConn is, it was that bad last year also, and that bad UConn team from last year, which got its coach fired, still beat Virginia last year.
Nobody had Virginia smacking down Boise State on the blue turf. You didn't have a win over a Duke team that would go on to win a bowl game.
North Carolina, at North Carolina? No.
Georgia Tech? No, you didn't have that one, either.
This year's Virginia team outperformed reasonable expectations by at least those four games, and played into the postseason.
And yes, then once it got there, it stunk up the joint.
There was nothing in terms of offensive line play to count on from about mid-October on, which took away any hope of establishing a running game, thus made life for quarterback Kurt Benkert that much more difficult, in turn snowballing into putting the defense on the field for more snaps.
You get where this is going? Football has so many moving parts, relative to basketball. Eleven guys have to work in concert on every single play to make things work. One guy on any one play, and you're talking turnover, you're talking a short run turning into a long one, a punt turning into a fumble and field position reversing.
To win week in, week out, you need 44 guys on your two-deep to be ready and able to contribute on 150 snaps.
Basketball, you've got an eight- or nine-man rotation, and the bulk of your production comes from three, maybe four guys.
One guy can make a difference on the hardwood.
Whereas you can have a couple second-team All-Americans on your football team, and you still need a couple dozen more guys, to be competitive on the gridiron.
Mendenhall still has a lot of work to do to get Virginia football where we want it to be.
Next step is obvious: building around an offensive line that can clear holes for a running game that can in turn allow a passing game to flourish.
You can't build an offensive line from incoming high school recruits, or even from last year's recruits. Linemen need to mature for two, three years, and you need 10 of them, from a depth perspective.
A stable, consistent line might not be a Year 3 thing for Mendenhall, who inherited little in terms of talent from his predecessor, and had to start at Ground Zero in the trenches.
Year 3 is also going to see a changing of the guard at quarterback. Hopefully that's Bryce Perkins, the heralded JUCO transfer, who can step right in for the next two years, with another heralded recruit, high school senior Brennan Armstrong, able to hold the clipboard the next two years, then step in when it's his turn.
There is plenty of skill at wideout and tailback, and on defense, enough to say that Year 3 should end with another bowl appearance, comparable to the Military Bowl.
Assuming continued development at QB and on the line, Year 4 should be a step up year, maybe into the next tier of bowls.
Year 5, again assuming, could be the epochal jump that we saw in Bennett's Year 5.
Remember me, the guy who famously said this year's Virginia team would win one game? I'm sold on Mendenhall being the guy who by Year 5 will have UVA football a legitimate ACC Coastal Division title contender.
I'm saying that because he's already at least a year, probably two, ahead of where he should be.
Patience, folks.
Story by Chris Graham