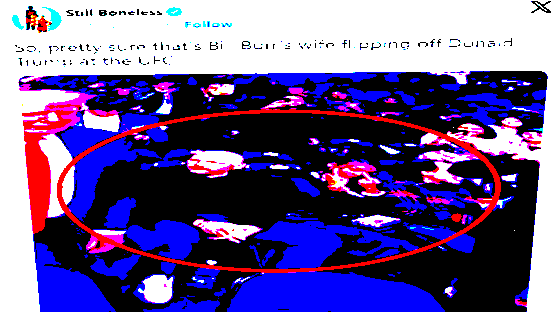 The MAGA snowflakes went full fee-fees on actress Nia Renée Hill after she flipped a double-bird at Donald Trump at UFC 295 earlier this month.
This is the crowd that chants "F–k Joe Biden."
Comedian Bill Burr, Hill's husband of 10 years, clapped back at the snowflakes in an appearance on the "Rich Eisen Show" last week.
"The guy walked in the arena. Everybody cheered. She gave him the finger. Nobody got arrested. That's why this country's great. Everybody expressed themselves. Can we all be adults? I mean, I don't know about you, but I came here to go to the fights. I didn't know I was going to the Republican National Convention," Burr said.
And there's one problem for UFC, which, yep, it's a free country, but with Dana White, the president of the MMA company, being all-in on Team Trump, he lost my pay-per-view dollars.
And before the snowflakes reading this get their bloomers in a bunch: Dana White has every right to be Team Trump, and I, just the same, have every right not to give Dana White a penny because he's Team Trump.
It's been years, roughly, 2016, since I've put down money for a UFC pay-per-view.
For what it's worth: I regularly buy wrestling and boxing pay-per-views, so, yeppers, progressive Democrats can indeed be fight fans, too.
The fight industry – MMA, wrestling and boxing – could do a lot better job paying the athletes who get folks to hit purchase on the big events.
Athletes in MLB, the NFL, the NBA, the NHL, which are all unionized, all get at or above 50 percent of the revenues generated by their work in salary.
MMA, wrestling and boxing are all below 20 percent of revenues going back to the athletes in the ring or octagon.
There's where the issue here isn't just about Donald Trump being a fascist wannabe dictator who deserves double-birds whenever he sticks his orange beak out in public.
How about double-birds for the Dana Whites, Vince McMahons and Tony Khans?
Anyway, back to the double standard from the MAGA snowflakes about the double-bird.
"Those Trump guys, they're always going, Ah, you're snowflakes, F your feelings, and all of that. And then you make fun of Trump, they're like, Oh my God, it's so disrespectful! It's like you're saying, F Joe Biden! It's like, you can't have it both ways!" Burr said on his appearance on "Eisen."