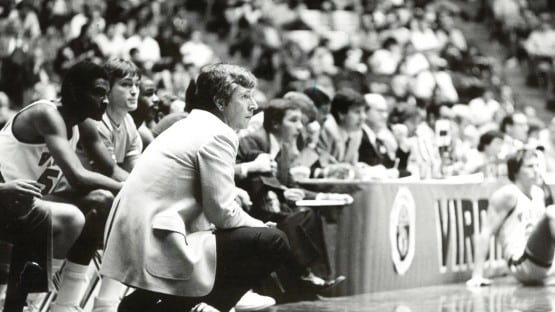 Terry Holland, who passed away on Sunday after a three-year-plus battle with Alzheimer's, is why I'm a University of Virginia graduate, and I doubt that I'm alone in being able to say that.
For me, I decided early in life, sometime between the 1976 ACC Tournament and the 1981 Final Four, that I was going to go to school at UVA, and play basketball for Terry Holland.
By the '81 Final Four, the plan was in focus – I'd be pre-law, ahead of a career in politics, and a power forward.
I knew I wasn't going to grow to be 7'4" like Ralph Sampson, or anywhere near the player that Ralph Sampson was, but I figured I could, with some luck, maybe top out around 6'8", and grab some rebounds and play defense.
When I played basketball in the driveway, I was Craig Robinson, Sampson's sidekick, doing all the little things.
The parts of my plan about going to law school and eventually running for governor came later, but it was all based on growing up in the long shadow cast by Holland.
Reality for me came in the form of my growth spurt coming to an end at 6'1", and by the time I was able to enroll at the University, in the fall of 1990, Holland was gone, having shocked the sports world by stepping down from the UVA job that spring.
More reality: I didn't get into the UVA law school, decided that I was better suited to save the world from itself in journalism, and put my focus on keeping people running for governor honest, instead of trying to be one of them.
But as it turns out, it was because of journalism that I was eventually able to get to meet and then get to know Terry Holland, as I worked on a book on the history of University Hall as it was being phased out to make way for the new John Paul Jones Arena, which Holland had helped lay the groundwork for in his tenure as the athletics director at UVA.
Terry Holland's outsized impact on UVA
I was able to speak at length with Holland for Mad About U: Four Decades of Basketball at University Hall, which I co-wrote with Patrick Hite, and was published in 2006.
We talked about why he left his alma mater, Davidson, which in 1974 was no doubt a better job than the one he was taking at Virginia, and his first day of practice with his new team, when he tore into his guys because they weren't doing jumping jacks right, said they were lazy and made them run sprints as punishment – actually, no, that story came from Dan Bonner, the noted ESPN basketball analyst, who was a fourth-year player on Holland's first UVA team.
"It was obvious this was a different world," Bonner said, referencing the jumping jacks story.
"Terry Holland toughened us up and showed us how to play a slower tempo against the good teams," said Billy Langloh, who played for Holland for three seasons.
Langloh's comment there gives us a hint as to how Holland's influence on Virginia basketball remains to this day, with Tony Bennett building off the foundation laid down by Holland to the successes that the program has seen in Bennett's tenure, including the 2019 national championship.
That 2019 national title was the culmination of years of effort, and heartache, that began with Holland, who never did bring home the big trophy, though he did lead Virginia to two Final Fours, in 1981 and 1984.
The arrival of Sampson, the nation's top-ranked recruit in 1979, came with outsized expectations. After winning the NIT in 1980, Virginia spent the bulk of Sampson's final three seasons on Grounds ranked in the nation's Top 5, but, frustratingly, the Cavaliers never could get over the hump in March.
Holland acknowledged that the pressure in the Sampson years, in which Virginia won 112 games and three regular-season ACC titles, was "unbelievable," which is what made 1984 a very close second to 1976 in Virginia basketball annals.
The first post-Sampson team started 10-0, lost nine of their next 14, fought its way into an NCAA at-large bid that many observers felt was undeserved, then landed in Holland's second Final Four, where the Cavaliers would lose, 49-47, in OT, to an Hakeem Olajuwon-led Houston team.
One more run to the doorstep to another Final Four, in 1989, fell just short, with a fifth-seeded UVA team upsetting top seed Oklahoma in the Sweet 16 before losing to eventual national champion Michigan in the Elite Eight.
Holland returned to Virginia in 1995 to take over as athletics director, overseeing the expansion of Scott Stadium to its current 61,500-seat capacity, then laying the foundation for what would become the John Paul Jones Arena, which opened in 2006.
The lighter side
On the Friday before JPJ opened with Virginia rallying from 19 down to beat a Top 10 Arizona team, I was able to have Holland join me on a talk radio show that I was hosting at the time for the local NPR station, to get Holland to share his memories from his U Hall years.
That hour with Holland is one of the highlights of my media career.
Through my conversations for the book and the radio show with Holland, I learned a lot about Holland's career in basketball and administration, and also some things about his lighter side.
For instance, his penchant for practical jokes – among other things, he loved to surprise people by dressing up in a gorilla suit that he kept in his office for special occasions.
"Obviously I couldn't do it every year, since even the football players would have figured that out," Holland joked, "but on a fairly regular basis, and in a situation where they would least expect it."
One such situation involved Anthony Oliver, whose name you might remember from the late 1980s and early 1990s.
"When I was coaching, Anthony Oliver was sent into the locker room by my assistants, where I was waiting in my gorilla costume with the lights out," Holland recalled. "When Anthony turned on the lights, I jumped out from behind the door, and he literally passed out in a heap on the floor, which scared me almost as badly as I had scared him."
I'd learn more when I got to meet and get to know Ann Holland, who joined my colleague, Jerry Ratcliffe, and me to talk about her husband for a pair of podcasts, in 2021 and 2022, in which she told the real story behind Terry naming his dog Dean, how Lefty Driesell convinced Terry's mother to sign his letter of intent to play at Davidson, and Terry's last appearance at a UVA game, last year, when he sat center court as Duke coach Mike Krzyzewski, a long-time Holland rival, coached his last game in Charlottesville.
Those two podcasts are worth a listen, and a reminder to keep Ann, a delightful woman and a bright light on the darkest of days, in your thoughts and prayers.
---
---
Holland's lasting influence
It seems appropriate to end this reminiscence on the life of Terry Holland with some thoughts from Tony Bennett on Holland's influence on him.
"Coach Holland is the best, his family and his daughters, just the way he has represented, you know, basketball and this program and what he's built," Bennett said after a December win over Albany, which at the time moved him to within one win of Holland's all-time wins mark at Virginia.
Talking with the media after the game, Bennett referenced a quote attributed to Holland by a reporter years ago.
"He said, every time I'd ask him, How are you doing, his response was, better than I deserve. And that's probably how I feel when you asked me this," Bennett said. "How has this gone? My coaching career, I didn't even want to coach, I just wanted to play a lot longer than I did. But, oh, I'll get into coaching. I'll try it. And yeah, I've had some tough times, but it's better than I deserve."
Bennett, after surpassing Holland's all-time wins mark at Virginia with a win over Syracuse last month, noted that he'd felt when he was being wooed by Virginia in 2009 to try to get things back to where they'd been under Holland that UVA was the kind of place where he could put the both the x's and o's and the values that he'd learned from his father, another legendary coach, Dick Bennett, into practice and have success.
"That's why this this position appealed to me a lot, because this is a kind of place that I think values, because of Coach Holland, how you do it, not just what you do, how, and so that's why it's been, at least for me, a pretty fortunate run," Bennett said.