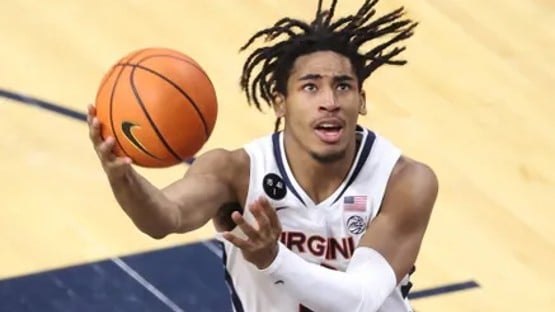 Armaan Franklin, rumored earlier in the week to be leaning toward not returning for his COVID senior season at Virginia, made it official on Friday, announcing that he will enter the NBA draft.
"To all the fans that filled up John Paul Jones Arena, thank you for taking a kid from Indiana and treating him like your own," Franklin said in a message posted on Instagram. "Charlottesville will always hold a special place in my heart. After a lot of conversations with my family and coaches, I have decided to declare for the 2023 NBA draft."
Franklin, a 6'4" guard, was Virginia's leading scorer in 2022-2023, averaging 12.4 points per game, on 42.4 percent shooting from the floor and 37.3 percent from three.
Reality check: he's not going to hear his name called on draft night. Franklin's name is not only not showing up in mock drafts, he's not even being mentioned in the Top 100 prospects in the 2023 draft class, which means it might be hard for him to even get a summer-league spot.
His route to making money playing basketball is hiring an agent who has contacts overseas.
It's not that staying another year at Virginia would change that, though.
Franklin is yet another example of good college player who's game is just not good enough to get him an NBA job.
He's graduating in May, so he'll have a UVA degree, and he'll get a chance to make money in Europe, Asia or the South Pacific, so there are worse things.