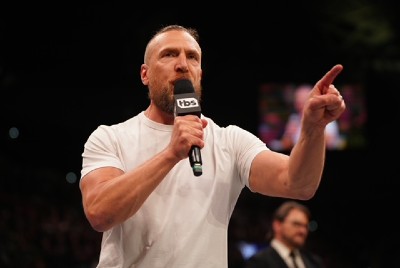 Bryan Danielson won't be back in the ring for AEW anytime soon, and it doesn't take much to think that it's because of bad booking by Tony Khan.
Khan confirmed in a July 7 interview that he was responsible for making the call to shut Danielson down after the star suffered an injury at the AEW "Double or Nothing" event in May.
Danielson had been scheduled to face Zack Sabre Jr. at "Forbidden Door" and then take part in the Blood & Guts match on the June 29 "Dynamite."
Nobody in AEW wants to use the "c"-word – concussion – in connection with Danielson, considering his history there, but it's obvious that's what Danielson is dealing with.
"I had talked to him on Wednesday when were in St. Louis for 'Road Rager,' and I talked to Bryan. And Bryan was like, 'I feel f—king great! I'm ready to come back, and I'm gonna fight Zack Sabre and we're gonna go to Blood and Guts. Let's f*king go man.' Then I talked to him the Saturday, eight days before the pay-per-view, and he's not doing as well. So, I immediately was like, 'You're not wrestling. If you're not feeling great eight days out, I don't care if you have seven straight days. I'm shutting you down until further notice.' He has scans coming up. I'm like, 'I don't care what they say. They could be perfectly clear,'" Khan said.
Danielson was taken off the road by WWE in 2015 and ultimately forced to retire due to ongoing issues with concussions and their aftermath, before finally getting medical clearance to return in 2018.
Regarded as one of the top technical wrestlers in the business, Danielson, who jumped to AEW last summer, was booked for what became classic matches with Kenny Omega and "Hangman" Adam Page in his first few months with the company, before being paired with former AEW world champ Jon Moxley in the Blackpool Combat Club.
It was a BCC match at "Double or Nothing," with the Jericho Appreciation Society, that saw Danielson suffer his latest apparent concussion.
Why Khan booked him in a match titled "Anarchy in the Arena" with Danielson's history is anybody's guess.
People flying off balconies and putting other guys through tables with chairshots and other weapons seems like good fun and all, but even if nobody got put on the shelf for an extended period of time, it was a waste considering the talent in the ring – Danielson, Moxley, Chris Jericho, Jake Hager.
There's always a risk in these type matches that somebody is going to get seriously hurt.
Putting a guy like Danielson at that type of risk is booking malpractice on the part of Khan.
Don't let him get away with trying to play the part of concerned father type now.