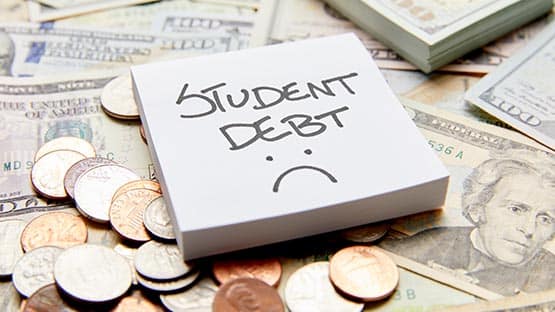 Student loan borrowers remain in limbo on how much they owe while the U.S. Supreme Court reviews a number of legal actions taken to block the relief.
On Tuesday, the Biden-Harris Administration mounted their case for student debt cancellation in front of the Supreme Court. The Administration offered $10,000 to $20,000 in relief to most borrowers under the COVID-19 public health emergency.
A summary of the two legal challenges, according to the Student Borrower Protection Center:
Biden v. Nebraska, is a lawsuit filed by six state Republican Attorneys General claiming the administration overstepped its authority in utilizing the HEROES Act of 2003 to take action in a national emergency. The states also argue a debt relief plan would impact their ability to collect revenue from borrowers saddled with debt for decades.
Department of Education v. Brown, was filed by two Texas borrowers excluded from partial debt relief (not a Pell Grant recipient) or outright ineligible (privately held loans). They maintain the government does not have the authority to enact debt relief.
"Our Administration is confident in our legal authority to adopt this plan, and today made clear that opponents of the program lack standing to even bring their case to court. While opponents of this program would deny relief to tens of millions of working- and middle-class Americans, we are fighting to deliver relief to borrowers who need support as they get back on their feet after the economic crisis caused by the pandemic," said U.S. Secretary of Education Miguel A. Cardona in an email sent to student loan borrowers on Tuesday.
"The student debt relief program will provide critical support to more than 40 million borrowers most at risk of delinquency or default when the student loan payment pause ends," the email said.
"While we await the Supreme Court's decision, the pause on student loan payments remains in effect. Payments will resume 60 days after the Supreme Court announces its decision. If it has not made a decision or resolved the litigation by June 30, payments will resume 60 days after that.
"In addition to this one-time debt relief program focused on counteracting the negative impacts of the pandemic, President Biden, Vice President Harris, and I will continue to put the needs of students and borrowers ahead of special interests, invest in college affordability, hold colleges accountable for runaway costs and unaffordable debts, and pursue historic changes to student loan repayment that will cut costs and reduce the crushing burden of student debt for millions of working families."
The Supreme Court decision will likely come by the end of June when the Court goes on summer break.
Related stories
Student loan borrowers plan overnight stay outside the Supreme Court
Student loan repayment plan could reduce monthly bills by 50 percent for some borrowers
Student loan borrower eligibility will be determined 'if and when we prevail in court'
Relief for student loan borrowers on hold; payment pause extended again
Biden student loan forgiveness on hold after Texas judge calls relief 'illegal'
Group demands student loan giant end plan to deny student debt relief in California
Federal judge blocks Republican-led challenge to Biden's student-debt relief plan
Student debt relief application site open, 'gamechanger for millions of Americans'
Department of Education: Update on student debt relief plan sent to borrowers
White House: Most student-loan borrowers in line for $10k in relief