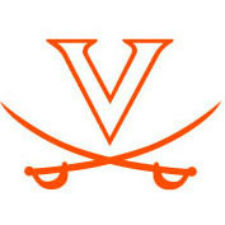 The fourth-ranked Virginia men's tennis opened play in the 2014 NCAA Tournament with a 4-0 win over Army Saturday at the Boyd Tinsley Courts at the Boar's Head Sports Club. The Cavaliers (24-2) continue the defense of their NCAA titleSunday as they meet penn state in the second round of the tournament. The Black Knights conclude their season with a 20-6 record.
"It was great to get back out on the courts and compete after a few weeks off, " said head coach Brian Boland. "I always feel like the first match of any tournament is the toughest, because you need to get back to competing after a layoff. I thought our guys did well, and they needed to play well because I was really impressed with Army. They are probably the best first round opponent we have had over the years and they forced us to play at a high level to win this match. We are looking forward to another tough match tomorrow against Penn State."
The Cavaliers took the early lead by winning the doubles point. Alex Domijan (Wesley Chapel, Fla.) and Harrison Richmond (Pawleys Island, S.C.) topped Sam Lampman and Grant Riechmann 8-2 at the No. 2 position. Mitchell Frank (Annandale, Va.) and Justin Shane (Falls Church, Va.) clinched the opening point with an 8-6 win at No. 3 over Kyle Barnes and Austin McCasin.
In singles, Virginia posted three straight-set victories to seal the victory. Frank was first off the courts, downing Lampman 6-1, 6-0 at the No. 2 position. Cavalier first-years produced the final two points, with J.C. Aragone (Yorba Linda, Calif.) defeating Harrison McCormick 6-2, 6-2 at No. 6 and Thai-Son Kwiatkowski (Charlotte, N.C.) topped Caison Best 6-0, 6-0 at No. 4.
penn state advanced to the second round with a 4-2 win over UNC Wilmington in Saturday's first match. The Cavaliers and Nittany Lions last met in the 2008 NCAA Second Round, a 4-0 UVa win. With a victory Sunday, Virginia would advance to the NCAA round of 16 for the 11th consecutive season.
Sunday's second match is scheduled for 1 p.m. at the Snyder Tennis Center. Admission is free and free parking is available in the Culbreth Garage.

#4 VIRGINIA 4, ARMY 0
Doubles:
1. #53 Corinteli/Styslinger (UVa) led Isoh/Van Velzer (Army) 7-3 DNF
2. #61 Domijan/Richmond (UVa) def. Riechmann/Lampman (Army) 8-2
3. Frank/J.Shane (UVa) def. Barnes/McCasin (Army) 8-6
Order of Finish: 2,3
Singles:
1. #6 Alex Domijan (UVa) led Asika Isoh (Army) 6-1, 2-4 DNF
2. #4 Mitchell Frank (UVa) def. Sam Lampman (Army) 6-1, 6-0
3. #46 Ryan Shane (UVa) led Grant Reichmann (Army) 6-4, 2-2 DNF
4. #113 Thai-Son Kwiatkowski (UVa) def. Caison Best (Army) 6-0, 6-0
5. Justin Shane (UVa) led Alex Van Velzer (Army) 6-4, 1-0 DNF
6. J.C. Aragone (UVa) def. Harrison McCormick (Army) 6-2, 6-2
Order of Finish: 2,6,4