Bell responds – finally – to debate invitation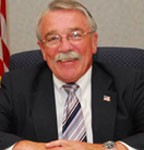 Dickie Bell didn't like Erik Curren letting the local media in on his invitation to Bell to participate in a debate series in their 20th District House race. So Bell let the local media in on his response.
"Based on my experience in four previous election campaigns I find events such as you propose to be largely media events that are often poorly attended by voters," Bell wrote to Curren in an e-mail that was sent simultanteously to Curren and to members of the local mainstream press late Thursday night.
Outside of that ringing endorsement, Bell, the Republican nominee, said he would "attempt" to accede to a debate schedule.
It was at the least a direct response to Curren's invitation – which was originally offered on July 29.
Bell had complained to the local news media after the invitation was first extended about hearing from the local media before receiving a hand-delivered letter of invitation from the Curren campaign.
- Story by Chris Graham

Comments