Rat shoots, rat scores! Final Fur Tournament returns to Science Museum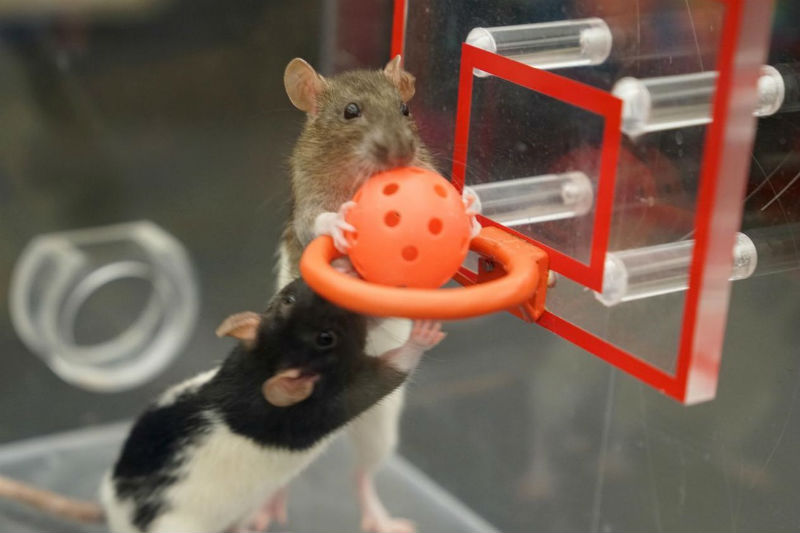 The Science Museum of Virginia's Rat Basketball Association is preparing for the March Ratness tip off with the 11th annual Final Fur Tournament.
New this year: the games happen during Science After Dark, the popular monthly after-hours event, on Friday, April 5, from 5 to 9 p.m.
Museum educators have trained female Norway Rats to pick up a small plastic ball and put it through a simulated basketball hoop. Whiskered players will represent the final teams of their college compatriots as they go head to head in this unique tournament. Just like the NCAA version, the Museum's Final Fur Tournament has the potential for exciting shots, stunning upsets and unlikely champions.
Demonstrations during the event, happening at 6 and 7 p.m., include announcer commentary, crowd-pumping music, rat trivia and more.
If basketball-playing rats are not enough, guests can get hands-on by making a basketball net, building a newspaper basketball tower, shooting hoops in a mini-basketball competition and designing a catapult to sling a ball through a net.
At 6:30 p.m. and 7:15 p.m. there is a live astronomy show in the Dome. Guests can also purchase a ticket for a special 8 p.m. showing of the 1996 basketball film "Space Jam" (rated PG) in the Dome. Weather permitting, the Richmond Astronomical Society will be on the Museum's front lawn with telescopes letting guests stargaze after the sun goes down.
Rats have been playing basketball at the Museum since 2004. The Museum offers Rat Basketball demonstrations daily, giving guests the opportunity to learn about classical and operant conditioning techniques used to train animals such as explosive and drug-sniffing dogs.
Holding the Final Fur tournament at Science After Dark offers science lovers from across Central Virginia who can't come during the day a chance to sit courtside and watch the action. Since the Museum started hosting Final Fur, the rats' tournament has accurately predicted the men's NCAA champion two times. (Hey, we taught them to play basketball, not make predictions!)
Guests of all ages are invited to wear team colors, bring pom poms and cheer for their favorite rodent.
Science After Dark admission is $10 for the general public. Museum members and children two and under are admitted free. The Museum offers discounts for military, teachers, students and EBT cardholders. Admission includes all exhibits and event programming. Guests can add the 8 p.m. feature film for $5.
Guests may purchase tickets in advance on the Museum's website, www.smv.org. Tickets will also be available for sale at the door the night of the event.
Comments