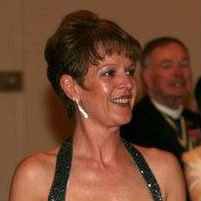 Column by Linda R. Jones
I used to send my father Steinbach Christmas tree ornaments when we lived in Germany in early 1980 and then again in early 1990.  They are colorful little wood ornaments that look like whimsical fat men of various professions, including the standard snowman and Santa, handmade in Germany.  To someone not familiar with these German ornaments, they may actually look a little cheesy and would be overlooked in a store.  I was thrilled I could send my father those ornaments, which were not made in China, but in his native country.  Once we were back in the United States, I couldn't find them anymore.  I don't even know if my father liked the little Steinbach ornaments or put them on his tree.  I get the giggles thinking he may have said, "Now vat ze hell is zis?  Is she trying to tell me I'm fat?"
My father started sending me golden ornaments made by Danbury Mint about 20 years ago.  They are elegant, accentuate our Christmas tree, and every year I would anxiously wait for the little box to arrive.  He signed and dated every card that went with every ornament.  Last year he didn't send one.  I was disappointed but I didn't realize how sick he was and how close he was to taking his last breath.
To my surprise, my husband found three Steinbach ornaments last year late in the shopping season at Ross or TJ Maxx.  It was a shopping score for us since they cost less than six dollars each.  My husband tried to find more online, discovered how costly they really are, and suggested we try to find a few every year.  He put a little tree in the upstairs hall window.  It looked nice from the outside with all the lights but there were only these three little Steinbach ornaments on the little tree.  My husband said we could start a new tradition by adding to the little tree every year.  I liked the idea.
After my father died, we found his Christmas tree ornaments.  He had so many and among them were treasures.  I didn't know he had his own Danbury Mint collection. My father had kept his collection and my Steinbach ornaments.  Both sets of ornaments were organized in two special boxes.  I remember staring at them in awe and wondering if he knew I would find them.  I kept those two boxes of ornaments.
Last week my husband found three more Steinbach ornaments at a ridiculously low price.  He again put up our little tree and our now six ornaments.  He looked at me and I could tell that he was concerned about asking me if I wanted to put up my father's ornaments.  I just got my father's two boxes of ornaments and started handing each one to my husband.  First, he put up all the Steinbach's and then the golden Danbury Mint ornaments.  Our little tree is almost full.  It's perfect for me and I don't mind going up and down the stairs many times a day just to look at it.  That tree is a tradition now courtesy of my husband, my father, and me.
I still get a little sad when the mail arrives and there isn't a little box from my father.  I just go upstairs and look at our little tree.  I touch the ornaments and sometimes take one off and really look at it.  I can smile thinking my father opened my Christmas tree ornaments, held them, and looked at them too.  He saved my ornaments and I saved his.  I know he would like our little tree and that he helped us start another tradition.
My healing journey continues.  Join me.  We can admire one another's Christmas tree ornaments.  We can still add to the collection or start another one.
(Henry Alfred Rudolph.  Born April 2, 1930.  Died March 2, 2015.)