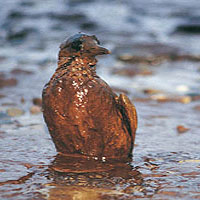 Backing a recently released final report on the 2010 BP oil spill, a local wildlife expert said it is likely that the oil company responsible for the 208 million-gallon spill into the Gulf of Mexico will likely get away with paying for little or none of the damage, and that the federal government's efforts to focus on managing what the public and press could see will make it hard to prevent future spills.
"I worry that the extent of the impacts will never be known. The government has released their figures on wildlife damage, pointing out that more than 8,000 birds, turtles, and other species 'were recovered' during the spill. They want us to believe that this is the full extent of the damage, but that is utterly ridiculous. Any reasonable review of the situation shows just how ridiculous it is," said Ed Clark, the president of the Waynesboro-based Wildlife Center of Virginia, who traveled to the Gulf in June as part of a team that was there to examine the impact on wildlife.
What he found were "overt government and industry efforts to keep our team, the media, and the public as far away from the impact areas as possible. They seemed to be much more concerned about preventing us from seeing the extent of the damage than about cleaning it up or limiting the environmental impacts," Clark said.
"I am incredulous that tens of thousands of animals died because the federal government seemed to be more concerned about controlling the press and limiting public scrutiny than about locating and recovering the countless wild creatures that were affected by this disaster. Unfortunately, the commission report fails to even mention this issue, except in the most oblique ways," Clark said.
The bipartisan commission appointed by President Barack Obama concluded that the entire system of oversight and regulation of offshore oil exploration and development was largely ineffective, and that unless the government and the industry dramatically restructure and redirect their efforts to protect workers' safety and the environment, a repeat of such a disaster is not only possible, but probable.
Clark criticized the report for failing to address what he calls "the shamefully inadequate response of the federal government to the plight of oiled wildlife."
"We have lost an opportunity to study the wildlife and fisheries impacts of a spill, as it is happening," Clark said. "The federal government's cloak of secrecy meant that scientists and researchers could not get to most of those oiled animals in a timely manner; there was no way to collect samples, conduct studies, or learn about the effects of this oil on the birds, reptiles, fish, and other living creatures of the region. These untold thousands of animals have simply died in vain. It just breaks my heart to think about it."
Read Ed Clark's full statement on the commission report here.
Story by Chris Graham. Chris can be reached at [email protected].