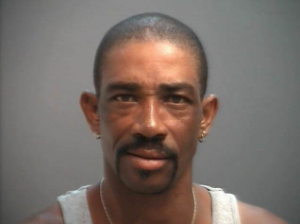 The Waynesboro Police Department has arrested a Waynesboro man on numerous charges after an officer responded to several calls of a suspicious man Wednesday morning.
Officers arrested Samuel Matthew Moore, 54, for public intoxication, resisting arrest and felony assault & battery on a law enforcement officer stemming from his early morning drunken escapade that started near Quadrangle Apartments and ended near Basic United Methodist Church.
On June 4 at approximately 7 a.m., an officer was dispatched to Quadrangle Apartments to investigate a call of a suspicious male following two young girls at the complex.  It was reported that the subject left on a bicycle.  As the officer was en route, another caller indicated that the same suspect had stolen a child's bicycle and was traveling on North Winchester Ave. Both callers indicated that the subject appeared intoxicated.
The officer located the individual, Moore, near Basic United Methodist Church soon after arriving.  Moore, who was now on foot after abandoning the bicycle, was staggering through the church parking lot.  When the officer tried to arrest Moore for public intoxication, Moore refused the officer's instructions and attempted to walk away.  The officer took Moore by the arm at which point he attempted to pull away.  The officer took Moore to the ground and was able to handcuff one wrist.  While Moore was on the ground he kicked the officer in the groin.  The officer had to use his Taser to get Moore fully handcuffed and in custody.
The officer was uninjured.  Moore is being held without bond at Middle River Regional Jail.