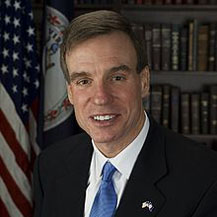 The National Retail Federation (NRF) has named U.S. Sen. Mark Warner (D-VA) a "Hero of Main Street" for his consistent support for small businesses and the retail industry, which supports over one million jobs in Virginia. As part of 2014 National Small Business Week, NRF recognized a 32 members of the U.S. Senate – three Democrats and 29 Republicans — for their work to promote economic growth in the retail industry, the nation's largest private sector employer.
"I am pleased  to receive this recognition for work to strengthen retailers and small businesses across Virginia," Sen. Warner said. "Small businesses and startups create and support the bulk of our country's job and economic growth, and that's why I have partnered with Virginia's main street businesses to strengthen their access to financing and promote fairness in the marketplace. Retailers also have been great partners in my efforts to protect consumer financial information following the Target data breach, and the NRF has supported our efforts to improve the Affordable Care Act by easing its regulatory and paperwork burdens on small business owners."
The NRF said this year's recipients were recognized for their consistent support of the retail industry's top public policy priorities. Sen. Warner supports patent reform, cosponsored the Marketplace Fairness Act, and is a lead sponsor of efforts to fix problems identified during the rollout of the Affordable Care Act. Additionally, Sen. Warner recently worked with NRF to establish an information sharing platform that allows the retail industry to better protect consumer financial information from data breaches like the one that hit Target and other major retailers last winter.
"NRF salutes our retail advocates in Congress for their dedication and proven commitment to public policies that support prosperity on Main Street," NRF President and CEO Matthew Shay said. "Retailers are the heart and soul of our communities, and we are pleased to acknowledge lawmakers like Sen. Warner who have consistently supported a pro-economic growth policy agenda to ensure a thriving main street and a healthy and vibrant retail sector in Virginia."