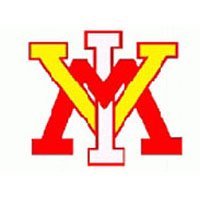 Will Connerley notched a two-run double in the fourth inning for the game's only runs as three VMI pitchers combined on a two-hitter, leading Keydet baseball over the Buffalo Bulls, 2-0, in the second game of the VMI Tournament, contested Friday at Gray-Minor Stadium. The win extended VMI's winning streak to six games in a row and continued the team's longest such run since the 2010 season.
Red Dowdell led off the VMI (6-2) fourth and was hit by a pitch. An infield out advanced him to second and Matt Winn drew a walk. Connerley then laced a hard ground ball deep into the left field corner for a double, scoring both runners to give the Keydets a 2-0 lead. The VMI pitching staff made the lead stand up, as Berkley Hawkins and Travis Thomas combined for 2 1/3 hitless innings in relief of starter Reed Garrett, who allowed just two hits and struck out seven in the follow-up to Feb. 21's no-hitter.
Garrett (2-0) got the win as he worked around five walks, while starter Mike McGee took the loss for Buffalo (4-1), dropping to 1-1 after giving up two runs on three hits over seven innings. Thomas was credited with his second save.
The teams combined for just 12 at-bats with a runner in scoring position on the cold, blustery day that saw temperatures in the low-30's throughout. Meanwhile, the VMI pitching staff now has a 2.19 team earned run average through the squad's first eight games and opponents are hitting just .184 against the Keydet hurlers so far this season.
Both sides cruised through the first three innings, and after VMI struck for two runs in the fourth, Buffalo threatened in the bottom half. Tyler Mautner led off with a single, breaking a run of 13 2/3 straight hitless innings thrown by Garrett. One out later, Mike Burke singled and with two out, Brian Dudek walked to load the bases. Garrett then struck out Mike Scarcello on a 3-2 offspeed pitch to end the threat.
VMI could not take advantage of a Jordan Tarsovich one-out double in its fifth, and the Bulls put together another rally in the seventh. With two out, Kyle Figgins and Dudek walked, ending Garrett's night and bringing Hawkins out of the bullpen. The senior struck out Scarcello swinging to end the threat. He then whiffed two batters in the eighth and gave way to Thomas, who allowed only a single baserunner in completing the shutout.
"Reed Garrett did a nice job tonight," said VMI head coach Marlin Ikenberry. "I didn't think he had great command, especially early on, and he did a great job of battling through that. Berkley Hawkins did a nice job to get us out of the seventh, in one of the first pressure situations he's been in as a pitcher, and Travis Thomas mixed his pitches well in the ninth, which is what he does best, to close out the ballgame. I was glad that Will Connerley and Matt Winn put some good swings on the ball today, which is good to see, and I was happy to see Will get the double that drove in two. I thought we had good at-bats most of the night despite the weather and was pleased to see us come out with the win."
Offensively, Tarsovich was the only player for either team with multiple hits on a day that saw him go 2 for 3 with his sixth double and his sixth stolen base.
In the first game of the day, Buffalo routed Maryland-Eastern Shore 11-1.
VMI baseball is back in action Saturday, taking on Maryland-Eastern Shore at 12:30 p.m. The Keydets and Buffalo will face off once again in the tournament's second game of the day, scheduled for a 4 p.m. start.