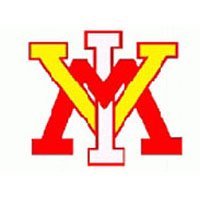 Andrew Woods pitched six shutout innings, striking out eight, and the VMI Keydets' pitching staff scattered five hits to lead their squad to a 3-1 win over the Lafayette Leopards, in the finale of a three-game series contested Sunday at Gray-Minor Stadium in Lexington, Va. With the win, VMI completed a three-game sweep, its first since March of 2012 and extends its winning streak to four games overall.
In hurling six scoreless frames, Woods continued the run of success this weekend for VMI (4-2) starting pitchers. Reed Garrett, Connor Bach and Woods combined to throw 20 innings against Lafayette (0-3), striking out 28, allowing just five hits and not surrendering an earned run. In Sunday's series-ending win, Woods threw 79 pitches, 52 for strikes, and earned his first career victory as a starter.
The Keydets jumped ahead early for Woods in the first. Jordan Tarsovich led off with a walk. He then broke for second trying to steal, and Lafayette pitcher Toby Schwartz threw to first. The ball got away, however, and rolled into foul ground well down the right-field line. Tarsovich rounded the bases to score, and was credited with a stolen base and scoring on Schwartz's two-base error to make it 1-0, VMI.
VMI added another run in the second, when Cameron Walter had a two-out infield hit off the foot of Schwartz and LeClair followed with a double to deep center, scoring Walter to double the VMI lead to 2-0.
The game settled down from there, although the Leopards threatened in the fifth. Tim Lazor led off with a single and moved to second on a bunt, but Woods retired Andrew Landolfi and Rob Caliento without further incident, ending the inning.
The Keydet starter made it through six innings and gave way to Berkley Hawkins, who retired the side in order in the seventh, and VMI added on in the bottom half. With two out, LeClair had an infield hit and went to third on a throwing error by reliever Connor McMahon. Tarsovich then followed with a single up the middle, scoring LeClair to make it 3-0, Keydets.
The visitors threatened again in the eighth, this time against Taylor Edens. Landolfi led off with a single and Caliento advanced him with an infield out. Brett Thompson followed with a single, putting runners at the corners, but Edens induced a 4-6-3 double play off the bat of Alex Nickles to end the inning.
Lafayette managed a single run in the ninth against Travis Thomas, accounting for the final margin.
VMI was paced offensively by LeClair, who went 2 for 3 with a double and a run batted in, and Tarsovich, who was 1 for 2 with two stolen bases, bumping his total up to four on the young season. Lafayette saw Lazor and Landolfi each notch two hits.
"I was really excited about Andrew Woods getting us through six shutout innings," said VMI head coach Marlin Ikenberry. "The bullpen did a great job – That was the first time Berkley Hawkins had back to back outings in his career, I thought his stuff was exceptional. Taylor Edens did a nice job working out of trouble by getting the 4-6-3 double play in the eighth. I thought Travis Thomas was a little amped up in his second outing, but it was good to see him finish the game for us. Offensively, I thought Gary LeClair did a nice job and that we had positive production from the bottom of the order with him and Cameron Walter. We had a big two-out RBI hit by Jordan Tarsovich in the seventh, but all in all, I was very pleased with the way we pitched and played defense all weekend."
The sweep was VMI's first of a three-game set since beating Presbyterian March 23-25, 2012 and it was the first Keydet four-game winning streak since March 16-22 of last season.
VMI baseball will return to action Tuesday, taking on #1 Virginia at Davenport Field in Charlottesville. Game time is set for 3 p.m.