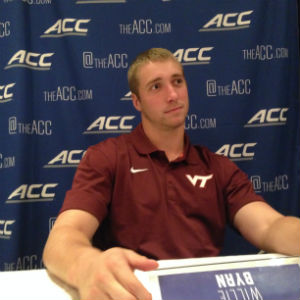 Q. It's been a long time since Tech went into a season not knowing who its quarterback is going to be. How unsettling is that for you coming into a new season?
WILLIE BYRN: I wouldn't say it's unsettling. I'd say it's more exciting. This summer has been like any other, just because like you said, there's always been a constant at quarterback between when I first got here, Tyrod and then Logan, so we've known who to work with, and naturally you work with the starter more than you work with the backups. But this year we've had to work with everyone, from the oldest guy down to the freshman that just got on campus, and you've got to treat them all the same and you've got to learn all their tendencies and what they want to do. So it's been fun. It's going to continue to be fun, and I think this competition between them is only going to bring out the best in not only the starter but the backup and the second backup and so on and so forth.
Q. Could you just go back to your early years at Virginia Tech coming in as a walk-on and now being a really go-to guy on the offense and how you've developed and now this year the role you're going to have in the offense being a veteran?
WILLIE BYRN: Well, I think I came in honestly as a walk-on overconfident thinking that I would not have to earn my stripes quickly and get a scholarship and everything right away, but you get there and you learn that everyone is good, and there's a reason why some guys were put in front of me, because they have some tangible talents that I might not have, size and things like that. But I've always had confidence in myself. The thing that really changed for me was I took a lot of pressure off myself right before last year, and when I did that and just had fun and just treated it like high school football and like I've been growing up having fun playing football and smiling a lot during practice, that's when I started really making a lot of plays on a consistent level, and it's been a lot of fun getting some exposure as being a good player and making some plays and everything. But I'm ready to take that next step to become a great player, especially for our team to go from a good team to a great team.
Q. You talked about the challenge of the quarterbacks that are vying for that starting role. How has it challenged you as you've grown up in this team and kind of, like you said, you knew who your quarterback was going to be and now you don't necessarily know that?
WILLIE BYRN: Well, for me personally like I was saying, taking a good step to a great step in terms of me personally, it's not only what I want to do, but now because of this new quarterback change, it's necessary. It's absolutely necessary. Last year I made some good plays, but I want to make every single play, all the really tough catches, I can't think of them as like, oh, man, I really wish I made that. That would have been a really nice catch. It's got to be I have to make that really nice catch, because whoever the quarterback is, it turns out to be, it's going to be their first year starting at Virginia Tech, so they're going to have some hiccups like everyone does their first year, and we have to — I have to bail them out of some mistakes that they make, and the same with the offensive line and the running backs and everything like that. Me personally, that's the way I see this quarterback competition, my role, to help get the new quarterback accustomed, I guess.
Q. You talked about going from good to great, 21 straight years in a bowl game but it's been a few years since it was a big bowl game. Are you guys feeling that drought, the program?
WILLIE BYRN: Yeah, we definitely — it's not to our standard. When you first came to Virginia Tech, all I knew, the year that I red shirted, we won the ACC Championship, went to the orange bowl. The second year we lost in the ACC Championship, still got there, only lost to Clemson going into the Sugar Bowl, and we got to the sugar bowl. All I knew when I was younger was BCS bowls and big-time stages. So it's definitely — I definitely don't like being in this — we've had just good seasons. We need great seasons.  The 10-win season streak thing that we had going was great, and it was a nice stat, but I never was a big fan of that being the standard of our success because I don't really think about number of wins. I'm thinking about it's ACC Championship or bust, and I think our whole team has that sense of urgency throughout these summer workouts and everything. If one guy takes a play off or anything like that, he's getting yelled at, and it's an urgent yell. It's not a desperate yell, but it's an urgent we don't have time for this, we've got to get rolling because we've got to get back to where we were. If that's the mentality, all 70 guys are going to have, then we're going to do some good things.
Q. Last year in an effort to end that big bowl drought, Coach Beamer changed offenses. You're in the second year of Coach Loeffler's offense. What should we look for?
WILLIE BYRN: Well, we have to have balance in order to get back to the great seasons we were talking about. Another year is going to do wonders, I think. Last year the first spring right after the coaches came in, I always say you can't even really call it a spring because it was literally just football or playbook 101. It was learning how to huddle up and where to line up. Now this spring we hit the ground running. We knew exactly where to line up and we knew what to do, so then we were able to look out in front of us and see what the defenders were doing, what kind of look, kind of coverage we were getting, and that allows you to really fine-tune your craft and everything like that. This year you need to look for we're going to balance the ball. We're going to run and throw, and the running has to improve not only through O-line and running backs and quarterbacks carrying out everything, and receivers, we've got to do our part by making more plays in the passing game and then also perimeter blocking.
Q. Trey Edmunds broke his leg in the last game last season. He's been working to get back. What do you know about Trey and how critical is his success to the offense's success this coming year?
WILLIE BYRN: Well, we really want him back. I think he has done a great job — it's conspicuously shown that he wants to get back. He's done everything and more that he has to do in terms of rehab and training and stuff like that, and I think he just — I'm not sure if this is the official word, but I think he just got cleared, or he's working full speed again. We're thrilled to have him back. We have some good depth at running backs, so for him to spearhead that group and kind of lead the way, it's going to be good because he deserves it and he's a good player.