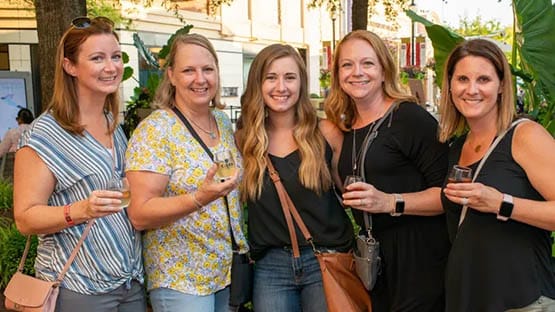 More than 20 Virginia distilleries will highlight the Virginia Spirits Expo on Saturday, June 3, at IX Art Park in Charlottesville.
From bourbon to cocktails and vodka to moonshine, there are spirits for every palate.
The expo will take place from 3 p.m. to 8 p.m.
VIP ticket holders will get early access to the event at 2 p.m.
All-access sampling is included in your ticket. Bottles will be available to purchase on site.
Industry experts including Royal Rum Society and Va Booz News will be on site.
The event will also feature local food and dessert trucks as well as live music from Radio Riot and Zach Angle.
Participating distilleries include:
Smith Bowman Distillery (Fredericksburg)
Brady's Distillery (Roanoke)
Caiseal Beer and Spirits Co (Hampton)
Catoctin Creek Distilling Company (Loudoun)
Chesapeake Bay Distillery (Virginia Beach)
Copper Fox Distillery (Williamsburg & Rappahannock)
Deep Creek Distilling (Chesapeake)
Filibuster Distillery (Shenandoah)
Five Mile Mountain Distillery (Floyd)
Ironclad Distillery (Newport News)
JH Bards Spirit Co (Pulaski)
KO Distilling (Manassas)
Lost Whiskey Club (Fairfax)
Mt. Defiance Distillery (Loudoun)
Orkney Springs Distillery (Springfield)
Ragged Branch Distillery (Charlottesville)
Reservoir Distillery (Richmond)
Springfield Distillery (Halifax)
Twin Creeks Distillery (Franklin)
Virago Spirits (Richmond)
Virginia Distillery Company (Nelson)
Vitae Spirits Distillery (Charlottesville)
Waterman Sprits (Virginia Beach)
Ticket holders will be able to vote for their favorite distillery and gold, silver and bronze awards will be presented.
Last call is at 7:30 p.m. The event will be held rain or shine. The event is open to ages 21 and older.
IX Art Park is located at 522 2nd Street Southeast #D in Charlottesville.
Tickets range from $20 to $100 per person.
Proceeds from this event support Giving Local.
More information is available at https://VirginiaSpiritsExpo.com