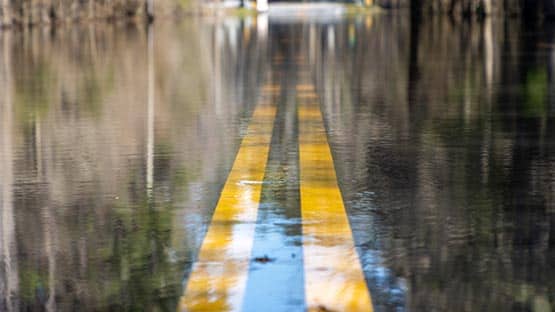 Tropical Storm Ophelia has its eye on Virginia with the most severe impacts expected in Hampton Roads, Richmond, Fredericksburg and Northern Virginia.
A tropical storm warning is already in effect for coastal Virginia, North Carolina and Maryland. Forecasts are currently calling for the eastern and central regions of the Commonwealth to be impacted by significantly heavy rains and strong winds.
The Virginia Department of Transportation and Virginia State Police are prepared to handle potential severe weather impacts which could begin as early as Friday afternoon.
At this time, forecasts show that the storm will bring heavy rain and strong winds this afternoon and into early Sunday. Rainfall of three to six inches is expected, with the highest rainfalls along and east of the Interstate 95 corridor.
Localized flooding is possible, and wind gusts may result in downed trees and powerlines, scattered power outages and temporary interruption of services at tunnels and ferries.
VDOT reports that crews are inspecting drainage facilities and clearing them where necessary, readying trucks and equipment and coordinating debris and tree removal crews to be on standby.
Virginia State Police have all available troopers and supervisors working through this evening and the weekend as the storm makes it through the Metro-Richmond region, Middle Peninsula and the Northern Neck.
To prevent unnecessary traffic crashes from occurring on Virginia's highways, Virginia State Police recommends residents postpone travel plans and avoid driving, if possible.
VDOT: Safety tips during the storm
Obey all "road closed" signage.
"Turn around, don't drown" – Do not attempt to travel through flooded roadways.
6 inches of flood water is enough to knock an adult off of their feet
12 inches can move most cars
18-24 inches can carry away most large SUVs, vans and trucks
Be alert to debris, downed trees and power lines.
Move over for emergency crews operating in or near roadways.
Be alert to high wind advisories, especially on bridges or taller structures. High-profile vehicles such as tractor trailers, SUVs or box trucks are especially vulnerable and should not cross a bridge when a high wind advisory is posted.
VSP: Driving tips
Slow your speed. Though state police works closely with the Virginia Department of Transportation to identify problem areas on Virginia's highways during a storm, drivers still must drive for conditions. Slowing your speed gives you more time to safely react and avoid a crash, downed trees and/or debris in the roadway. Drive your vehicle based on your ability to properly maintain control of your vehicle.
Turn around. Don't drown. Never drive through standing water. What looks like a puddle can be deep and swift-moving water. Turn around and find another, safer route to your destination.
Don't tailgate. You need increased stopping distance on wet road surfaces. Give yourself more space between vehicles traveling ahead of you in order to avoid rear end collisions.
Use headlights. Increasing your visibility helps you to avoid standing water and/or flooding. Headlights also help other drivers see you better, especially in a downpour when visibility is limited.
Buckle up. Most crashes that occur during inclement weather are caused by vehicles sliding off the road or other vehicles. Wearing your seat belt protects you from being thrown around the inside of your vehicle and suffering serious injury in a crash.
Put down your phone. Having to drive in heavy rain requires a driver's full, uninterrupted attention. Do not text and drive or shoot video of the bad conditions while driving, as these actions put you, your passengers and other vehicles at extreme risk of a crash or injury.
Check your vehicle. Make sure your vehicle is in good working order for the conditions. Fill up the tank in advance. Check windshield wipers, tire tread, battery life, etc.
Stay informed
Prior to travel, the public should check road conditions by calling 511, visiting www.511Virginia.org or checking the 511 Virginia mobile app.
The public should report any problems such as flooding, downed trees or road hazards to VDOT's 24-hour Customer Service Center by visiting my.vdot.virginia.gov or call 800-FOR-ROAD (367-7623).
For more information about VDOT, including safety information and travel alerts, visit www.virginiadot.org.
Virginians are advised to only call 911 or #77 on a cell phone in case of emergency. It is essential to keep emergency dispatch lines open for those in serious need of police, fire or medical response.