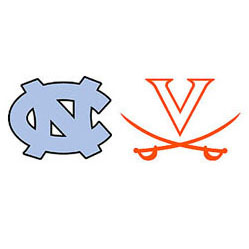 A 6-0 second-half scoring run propelled the sixth-seeded UVa. women's lacrosse team (12-8) to a 10-9 upset victory over third-seeded North Carolina (15-5) in the quarterfinals of the 2014 NCAA Women's Lacrosse Championship on Saturday (May 17) in Chapel Hill, North Carolina.
With the win, the Cavaliers advanced to the semifinals of the NCAA Tournament for the 14th time in program history and for the first time since 2007. Virginia will take on Syracuse next Friday, May 23 in Towson, Maryland.
"We are incredibly excited and super proud of the girls and what they were able to pull off today, beating a very good Carolina team" said Virginia head coach Julie Myers. "It was a combination of a lot of hard work and sticking with it when the season was tough to get to this point. The second half was great. Draws and ground balls started bouncing our way and we were able to chip away at UNC's lead. Our shooting was really efficient today. I think Carolina's defense did a good job of limiting some of those shots, but we were able to make it count when we needed to. So here we come!"
Junior Casey Bocklet (South Salem, N.Y.) had five points with two goals and three assists. Senior Liza Blue (Butler, Md.) had two goals and two assists. Senior goalkeeper Liz Colgan (Cockeysville, Md.) had nine saves, including six in the second half.
Trailing 8-4 in the second half, Virginia went on a 6-0 run, holding possession for over 12 minutes, taking a 10-8 lead on senior Maddy Keeshan's (Greenwich, Ct.) second goal of the game. Blue won the ensuing draw control, the sixth-straight for the Cavaliers, but North Carolina got the ball back after a save on a shot by sophomore Kelly Boyd (Baltimore, Md.), the Cavaliers' first miss after connecting on their previous five shots. UNC's Abbey Friend scored with 4:17 remaining, snapping the Virginia scoring streak.
North Carolina won the ensuing draw control. After Colgan grabbed a save on a Tar Heel shot, Friend pressured the ball, causing Colgan to turn it over. The Tar Heels had a shot at an empty net that would have tied the game, but missed the shot went wide. Virginia got the ball back after the shot went out of bounds, managing to successfully clear the ball and get it back into the attack zone.
North Carolina applied defensive pressure, causing a turnover with 26 seconds remaining, but sophomore Mary Alati (Glen Ridge, N.J.) caused UNC to turn the ball back over. Alati also came up with the ground ball and Virginia was able to retain possession for the final seconds to close out the victory and eliminate the defending national champions from the post season.
The Tar Heels outshot Virginia 14-7 in the first half and 27-17 overall. UNC held an 8-4 edge in first-half draws, but Virginia won the draw battle 6-3 in the second half. Both teams combined to turn the ball over 17 times in the first half, but only had six turnovers in the second half.
Carolina had won nine games in a row over UVa, including a 14-10 victory earlier this season in Charlottesville, and 11 of the last 12 installments in the series. Virginia's season had ended in an NCAA Tournament loss at North Carolina in three of the last four seasons. Carolina had won its last 15 home NCAA Tournament games in a row.
After starting the season 4-6, Virginia has won eight of its last 10 games, including four victories over top-10 teams.
Second-seeded Syracuse, Virginia's semifinal opponent, advanced after an 11-9 victory over eighth-seeded Boston College. Maryland, the top seed in the tournament, advanced after defeating unseeded Duke, 15-8. Fifth-seeded Northwestern downed fourth-seeded Florida, 12-11, in double overtime, to earn the final slot in the final four.
The NCAA Tournament semifinals and finals will be held May 23 and 25 at Johnny Unitas Stadium in Towson, Maryland. The semifinal games will be shown live on ESPN3 at 5 and 7:30 p.m. ET, Friday, May 23. The championship game will air live on ESPNU at 8:30 p.m. ET, Sunday, May 25. The game time designations for the Virginia/Syracuse and Northwestern/Maryland will be announced later.