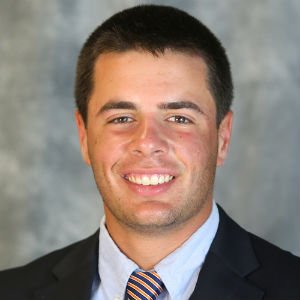 Virginia junior golfer Derek Bard's (New Hartford, N.Y.) bid to win the U.S. Amateur Championship came up short when he lost to SMU junior Bryson DeChambeau 7&6 in Sunday's final at Olympia Fields Country Club.
DeChambeau, the 2015 NCAA individual champion, won the first two holes before Bard won four of the next five holes to enjoy a 2-up lead. Prior to Sunday's final match, DeChambeau had trailed for only two holes in his previous five match play contests.
From there, DeChambeau was dominant. He won the eighth and 10th holes to square the match and then reeled off wins on 14, 15 and 16 to go 3-up and never trail again. He finished the first 18 holes at 2-up.
Bard picked up a win on the 19th hole, but would not win again until the 29th hole. By then DeChambeau had increased his lead to 7-up. When the players halved the 30th hole it gave him the victory and the Havemeyer Trophy.
Bard said the week-long experience at the USGA Championship event taught him a lot about himself.
"I realized I can play with people at this level," he said. "I just realized that if you're down and out, just never count yourself out and just keep grinding away and see what happens in the end. I did the first few matches, and it fell my way. And unfortunately today was a different story."
By virtue of playing in the final match, Bard will receive and invitation to the 2016 Masters Tournament, the 2016 U.S. Open and will have a three-year exemption for the U.S. Amateur Championship.
"That's a nice consolation prize," Bard said. "That's been my dream since I was a little kid to play in the Masters. Now it's here, coming in April and it's fantastic."
Bard and his Cavalier teammates will open their season Sept. 12-13 at the Northern Intercollegiate in Sugar Grove, Ill.