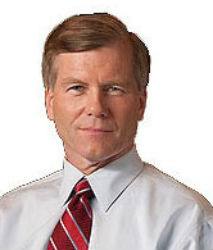 A federal judge has sentenced former Virginia Gov. Bob McDonnell to two years in prison on his convictions in a corruption case, a stunning downfall for a once-rising star in the Republican Party.
McDonnell had faced as much as 20 years in prison on the convictions that were handed down by a jury in September. The U.S. probation office had recommended at least a 10-year sentence, but early in the sentencing hearing on Tuesday, Judge James Spencer reduced the potential exposure to between six and a half to eight years.
McDonnell was convicted on 11 counts for accepting $177,000 in gifts and loans from a Richmond businessman, Jonnie Williams, the former CEO of a company, Star Scientific, who leveraged his access to the governor to pitch his company's products to state officials.
Former First Lady Maureen McDonnell was also convicted on nine counts in connection with the case. She faces sentencing in February.
Bob McDonnell is due to start his prison term on Feb. 9. His attorneys said Tuesday after the verdict that they do plan to file an appeal.