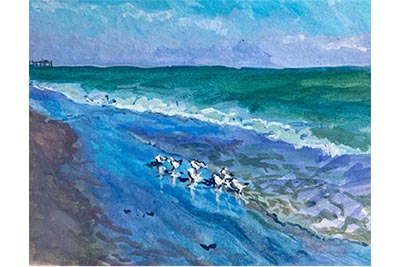 CoArt Gallery in Staunton has announced Jenny Abrams as the featured artist for July.
The exhibit is titled "Variations on a Coast: Impressions of Subject, Light and Color in Gouache."
"Every day at the ocean is different. Wind, sun, clouds, and tides affect colors and shapes in the water and sky. Walks on the beach can be calming or invigorating and are always restorative," said Abrams. "COVID has given me the opportunity to spend extended time on the coast, and I've spent the last two Januarys living at and working from the beach. These paintings are made from direct observation. Working in gouache has enabled me to experience and capture the transient beauty."
CoArt Gallery is a cooperative gallery in downtown Staunton. The gallery showcases more than 40 spaces for local artwork.
CoArt Gallery is located at 22 W. Beverley St. in Staunton.
Hours are Wednesday and Sunday, 1-5 p.m., Thursday and Friday, 10 a.m. to 6 p.m. and Saturday from 10 a.m. to 8 p.m. The gallery is closed on Monday and Tuesday.
For more information, visit coartgallery.com