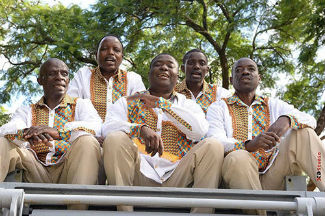 Through a partnership with Charlottesville's roots music school, The Front Porch, St. Anne's-Belfield School will present Black Umfolosi, a self taught a cappella (Imbube) singing and traditional dance group from Zimbabwe, on Monday, Sept. 10 at 7:00 p.m. in Grisham Hall.
Formed in 1982 by the then school-age members who wanted to develop themselves and contribute to their community, they named themselves after the Umfolozi Omnyama River in South Africa, the location to where their ancestors can be traced. Specializing in Imbube music, gumboot dance, and Zulu dance, Black Umfolosi has toured extensively nationally and internationally. Their performances are energetic and engaging, mixing gentleness of spirit and song with exuberance in dance. Their trademark harmonies mixed with intricate rhythms, clicking, and clapping are highlighted during their brilliantly choreographed shows with a full range of movements from subtle to vibrant stomping and leaping. Their famous Gumboot Dances showcase the traditional styles and rituals of the South African mining regions and are a particular crowd pleaser.
Prior to the evening concert, St. Anne's-Belfield School and local high school choir students will have the chance to work with Black Umfolosi in musical workshops.
Tickets for the performance are now available via The Front Porch (frontporchcville.org/events/black-umfolosi).