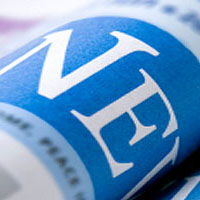 The newspaper industry has an issue with the new overtime pay rules. Big surprise there, if you know anything about the print news business.
Small newspapers, in particular, are notoriously abusive of their employees, and I speak with experience in saying so.
I worked for five years at a small daily in Waynesboro, Va., and was routinely pressured to pretend like I worked 40 hours a week, when I worked a heckuva lot more.
Among other things, there was an edict from on high regarding coverage of police activity that involved rotating responsibility for monitoring scanner traffic that somehow wasn't considered time on the clock, though, come on, how were we to know that there was something important going on unless we were engaged and ready to pounce at a moment's notice?
Try getting a workout in, or going to church on Sunday morning, or a family barbecue, when you have a scanner going off at any moment.
But that wasn't work, and neither were assignments in the sports department, for which I was paid as a stringer so the company could avoid overtime.
This has gone on at newspapers for years, still goes on, and yet now we are to feel sorry for the newspaper industry because they actually have to pay their employees for their extra work.
This from a press release from the National Newspaper Association, whose president, Chip Hutcheson, publisher of the Times-Leader in Princeton, Ky., warns that the new OT rules will lead to job cutbacks at small papers across the country.
The press release notes that many small papers are under financial pressure from weak local economies, which isn't the case as much as that they are under pressure from a changing world.
The bread and butter of a small-town newspaper is advertising from local businesses, but with the growth of chains like Wal-Mart and Target, so much for that foundational element. The big boys tend to not spend their advertising dollars locally, but taking advantage of economies of scale put more money into national advertising, online options and social media.
The other factor killing small-town local papers is that their readership base is literally dying off. Circulation for print, big and small, has been in steady decline, and the demographic trends for those who still prefer the tactile version aren't good news for those in the news business.
So you have less people reading, less money coming in from advertising, and the problem is the Obama administration.
These same small newspapers crying in their beer that the new OT rules are going to cause them to slash jobs have been slashing jobs left and right for more than a decade now.
From my days at the small daily that I cut my teeth at 20 years ago, when we all felt overworked and underpaid, and were, the staff there today is about a quarter of what it was back then, but funny thing, it's still a daily, and city council meetings and Friday night football and car accidents still need to be covered.
The pain is being felt in the front offices, sure, but the folks in the newsroom bear the brunt of the blues and agony.
Back to Hutcheson: "In the end, we agreed with the Labor Department's goal of improving the income of workers. We disagreed mightily with the manner in which it is pursuing the goal, and we believe in the end it will hurt our workforce, our newspapers and newspaper readers."
Another perspective would be that it's your inability to adapt to the changing media and business climate that's hurting your model.
Last one out the door can turn out the lights, but until then, pay the folks doing their jobs.
Column by Chris Graham