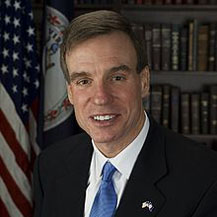 U.S. Sen. Mark Warner, D-Va., the Pew Charitable Trusts, and JPMorgan Chase Bank this week announced a new model disclosure box to help educate consumers about hidden fees often charged by issuers of prepaid cards.
Sen. Warner recently introduced legislation to require banks to more fully disclose hidden fees for prepaid cards that would make more disclosures mandatory. The Pew model disclosure box for prepaid cards will be similar to the "Schumer Box" for credit card disclosures and Pew's model for checking account disclosures. Also today, JP Morgan Chase Bank announced that it will be the first financial institution to adopt this new disclosure box for prepaid cards.
"It's important that people have access to prepaid cards as we move into an increasingly digital economy, but consumers deserve basic protections," Sen. Warner said.  "Prepaid cards are one of the fastest-growing segments of the digital economy, but aren't required to have the same kinds of consumer protections as other types of credit cards and gift cards. I commend Pew for their work on this issue and Chase for being the first prepaid card provider to adopt the disclosure box for their cards, which I proposed making standard for the industry in my legislation."
Americans loaded more than $64 billion onto prepaid cards in 2012, more than double the amount loaded in 2009. A Pew study of 66 prepaid cards found that nearly every card failed to disclose at least one type of fee, service, or consumer protection.
"Pew's research shows that inconsistent disclosures make it difficult to understand the fees associated with each prepaid card," said Susan Weinstock, director of Pew's safe checking research. "Terms should be plainly stated so that consumers can make fully informed financial decisions. Chase is taking an important step toward making these cards more beneficial and we hope other providers will follow."
"Our customers appreciate that we use clear language when we describe how our products work," said Barry Sommers, CEO of Chase Consumer Bank. "Chase Liquid was built on the premise of being simple and easy to understand, so the Pew disclosure form is perfectly aligned with this product."