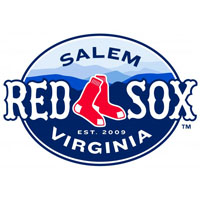 In a game that began on Tuesday and was completed Wednesday night the Salem Red Sox were shut out by the Lynchburg Hillcats 4-0 at Lynchburg City Stadium.
All but one run scored prior to the suspension of the game, with Lynchburg striking for a run in the second inning, a frame that did not feature a base hit. Eric Haase walked and stole second before moving to third on a wild pitch. Dorssys Paulino knocked him in with a sacrifice fly, giving the Hillcats a 1-0 lead.
Lynchburg's advantage grew in the third, again with no hits surrendered by Salem starter Ty Buttrey. Yhoxian Medina led off with a walk and promptly stole second. In the next at bat, Claudio Bautista swung and missed at a third strike in the dirt that Danny Bethea scrambled to pick up. Bethea throw wide to first base as the ball glanced off the glove of Jordan Betts and sailed into right field, allowing Medina to score from second and Bautista to take second. After a wild pitch, Clint Frazier plated Bautista with a groundout to second, making it 3-0 Hillcats.
With one out in the fourth, the rain intensified and home plate umpire Mike Provine called for the tarp at 9:31 p.m. on Tuesday night, one hour after the game began. After a delay of 30 minutes, the game was officially suspended. It resumed Wednesday at 5:34 p.m. and the Red Sox threatened to score only once.
Salem loaded the bases in the sixth inning despite not recording a base hit. Yoilan Cerse walked, Mario Martinez reached on an error and Kevin Heller was hit by a pitch, putting a player on every base with two outs. Jordan Betts hacked at the first pitch of the next at-bat and popped up to Nellie Rodriguez at first base to end the inning.
Buttrey (7-4) walked four in three innings and allowed three runs, one earned, on only one hit with five strikeouts.
Kyle Kraus pitched the remaining five innings and allowed only one run on a sacrifice fly in the eighth inning. He gave up four hits and walked two while striking out a pair. Justin Brantley (3-5) took the win with 2.2 innings of shutout ball, allowing only a walk with two strikeouts.
Salem dropped to 51-52 with the loss, falling below .500 for the first time since June 6. The Sox are 13-20 in the second half while Lynchburg is now 50-53 and 17-16.
The Red Sox and Hillcats will play the originally scheduled game beginning at approximately 7:30 p.m.. Teddy Stankiewicz (3-9, 3.78) will start against Mitch Brown (6-9, 5.45) in a seven-inning affair.