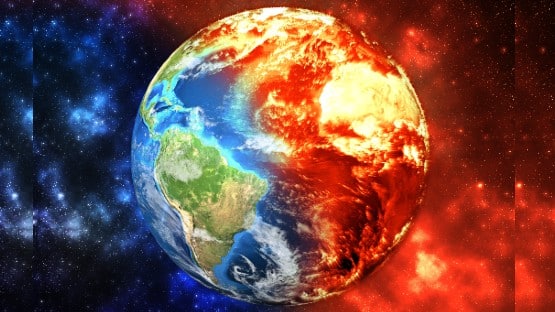 Only in the last moment of human history has the delusion arisen that people can flourish apart from the rest of the living world. – E. O. Wilson
Our Climate Crisis
Scientists have documented an abnormal and dramatic surge in sea levels along the U.S. Gulf Coast in the past decade. Sea-level rise in the area has been nearly 5 inches between 2010 and 2022—more than double the global average rate of sea-level rise. This raises questions about whether New Orleans, Miami, Houston and other coastal communities might be even more at risk from rising seas than once predicted.
The Horn of Africa is suffering its worst drought in 40 years after five consecutive years of below-average rainfall. New scientific studies have shown that the drought would not have happened without the human-made impact of the climate crisis. A conservative estimate is that climate change has made droughts in the region about 100 times more likely to occur.
A growing number of young people are "hesitant to have children" because of decades of climate denial and inaction. A global survey of people between the ages of 16 and 25 shows how widespread these sentiments are. Close to 60% say they feel "very" or "extremely" worried about climate change and nearly 4 in 10 said they are therefore "hesitant to have children."
Politics and Policy
House Republicans are confident that pushing the production and use of fossil fuels will be a winning political strategy in 2024. They've already wrapped this agenda into their demands in the national debt standoff. So far, however, the voters they're hoping to attract don't seem to care.
Going beyond offering incentives for clean energy, the Biden administration recently announced ambitious Environmental Protection Agency auto pollution rules aimed at accelerating the shift to electric vehicles. Last year EVs accounted for just 7% of vehicle sales. The ambitious goal is to increase that to two-thirds of passenger cars, half of freight delivery vehicles and a quarter of heavy trucks purchased in a decade from now.
The enormous $8 billion Willow oil project on Alaska's North Slope represents a small fraction of the hundreds of new oil and gas extraction projects approved in the past year across the world. Many more are expected to be approved this year. This surge in extraction ignores the warning from the Intergovernmental Panel on Climate Change that fossil fuel production must start declining sharply to avoid the most catastrophic effects of climate change.
The Environmental Protection Agency is tightening its rules on the emissions of mercury and other harmful pollutants from coal-fired power plants, updating standards imposed more than a decade ago. Such emissions can harm brain development of young children and contribute to health problems in adults. The stricter rules will likely lead to the early retirement of some coal-fired power plants.
The U.S. Court of Appeals for the 4th Circuit again blocked the Mountain Valley Pipeline from moving forward in West Virginia. The reason for the ruling was that the pipeline builder has repeatedly failed to comply with state stormwater and water quality requirements.
Energy Secretary Jennifer Granholm is encouraging the Federal Energy Regulatory Commission to proceed expeditiously on new permits for the Mountain Valley pipeline, the natural gas project favored by West Virginia Democratic Sen. Joe Manchin and opposed by environmentalists. She made the ironic claim that the pipeline will "play an important role" in supporting the transition to clean energy and in safeguarding our energy system.
After a nearly two-decades-long permitting process, the U.S. Bureau of Land Management gave final approval to begin building the $3 billion TransWest Express high-voltage transmission line. It will carry enough electricity from a large wind energy project in a former coal-mining community in Wyoming to power about 2 million homes in Arizona, Nevada, and California.
Energy
Automakers and battery manufacturers are developing solid-state batteries, which are lighter, less flammable, and have the potential for longer ranges than current lithium-ion systems. Some companies claim they are just a few years from releasing the first cars with solid state batteries.
Installing roof solar on warehouses could generate enough clean electricity to power every household in every state's most populous cities, according to a report by two environmental research organizations. One of the researchers comments, "If we want to create a clean energy future, we should look first to the already-built environment that could host the tools we need. Warehouse rooftops provide a perfect opportunity—they're big, they're flat, and they're begging to be put to this crucial use."
Globally, electricity generated from wind and solar surged to 12% last year—up from 10% in 2021 and 5% in 2015. Renewable sources, including nuclear power and hydroelectric, now account for 39% of world electricity. The rest comes from fossil fuels that cause planet-warming carbon emissions. Coal, at 36%, remains the single biggest global energy source.
Virginia regulators approved nine solar projects and one energy storage project totaling about 500 megawatts that will be owned by Dominion Energy. The approved projects also include contracts with third-party developers who will build solar and storage facilities, totaling about 300 megawatts, and sell the energy to Dominion. This is in line with the Virginia Clean Economy Act, which seeks to decarbonize the electric grid by 2050.
The shipping industry is searching for cleaner ways to power the behemoth vessels that underpin the modern economy. Methanol is gaining favor as an alternative ​"drop-in" fuel that can be used immediately as companies develop truly zero-carbon solutions. If made from renewables, it can sharply curb carbon emissions compared to using oil-based fuels.
Climate Justice
While developed countries have historically contributed the most greenhouse gas emissions, that is rapidly changing. The top 10 emitters of greenhouse gases today (other than the United States and Canada) are emerging economies. This means providing international support in lowering emissions in poor countries as well as taking a surgical approach to reducing emissions by country and sector.
The UN Food and Agriculture Organization reports that women working in agriculture "tend to do so under highly unfavorable conditions" – often in the face of "climate-induced weather shocks and in situations of conflict." Addressing these inequalities and empowering women would improve their well-being and that of their households.
The Menominee tribe has sustainably logged its 235,000 acre forest in Wisconsin for 160 years. The tribe has been recognized by the United Nations and certified by the Forest Steward Council, the gold standard for responsible forestry, among other awards. Foresters from around the world routinely come to study the forest, which is healthier today than it was a century ago.
Small farmers in Malawi are becoming some of the most creative farmers in the world in response to global warming. They are sowing pigeon peas to shade their soils from a hotter, more scorching sun. They are resurrecting old crops, like finger millet and forgotten yams, and planting trees that naturally fertilize the soil. And they are turning away from one legacy of European colonialism, the practice of planting rows of corn and saturating the fields with chemical fertilizers.
Climate Action
Community Housing Partners (CHP) held a weatherization program at Mosby Heights in Harrisonburg last week. The nonprofit makes weatherization improvements, including attic insulation, air sealing, low flow shower heads, LED bulbs, an energy efficient water heater, and even an energy efficient heat pump HVAC system, to low income households at no cost to the homeowner or renter. This is a big win in driving down energy costs while reducing local greenhouse gas emissions. The CHP Weatherization Program application form is available at https://www.communityhousingpartners.org/energy-solutions/weatherization/.
Electrification has become a major tool in lowering greenhouse gas emissions. Transforming the economy so that more things run on clean electricity is a cornerstone of slashing emissions to nearly zero by 2050. It will require major efforts to strengthen and upgrade our electrical grid. Using electric power will be especially challenging in sectors such as aviation and heavy industry. Switching to clean electricity will be a formidable challenge but not impossible.
Our country's largest solar array is being built in Springfield, Illinois. The massive 593-megawatt Double Black Diamond solar project will power O'Hare Airport and Chicago government buildings. This is part of the commitment of the Chicago city government to use 100% renewable electricity in city buildings by 2025.
A growing concern in rural Virginia is that  solar farms are taking over usable agricultural land. Dominion Energy is combating that with an alternative way of keeping things green at its 200 acre solar farm in Sussex County. Their solar grazing program uses a herd of sheep to clean up more than 40 acres of grass a day across five of their solar farms. Grass-fed animals produce fewer emissions than grain-fed animals, while concentrating that carbon back into the soil.
Woodstock Gardens, in Woodstock, VA,  is one of three garden centers across the state piloting a Virginia Department of Forestry program offering significant discounts to customers who buy and plant native trees and shrubs. Native trees and shrubs require less maintenance and resources and additionally improve water quality by filtering out pollutants, storing harmful greenhouse gases and reducing erosion.
Virginia's voluntary Pollinator-Smart program encourages pollinator-friendly solar development. Solar energy facilities designed to support bees, butterflies and birds are now beginning to take hold through this innovative program to improve biodiversity. For example, Foxhound Solar, an 83-megawatt solar installation on 600 acres in Halifax County, is the second solar facility to be certified Pollinator-Smart in the commonwealth.
James Madison University is now offering a new Climate Science minor. Program coordinator Bill Lukens says that "human activity is changing Earth's atmosphere and oceans in ways that we haven't seen on Earth for millions of years." Students taking courses in the minor will explore past climates through geological records and then contextualize them within our current and future world.
Researchers at Washington State University have developed a viable formula for a carbon-negative, environmentally friendly concrete that is nearly as strong as regular concrete. They did it by infusing regular cement with environmentally friendly biochar, a type of charcoal made from organic waste, that had been strengthened beforehand with concrete wastewater.
Compiled by Earl Zimmerman on behalf of the Climate Action Alliance of the Valley.