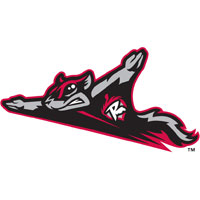 The Reading Fightins (31-30) snapped a five-game win-streak for the Richmond Flying Squirrels (35-26) with an, 8-5, win in the finale of a four-game series on Monday morning at FirstEnergy Stadium.  The victory allowed the Fightins to salvage a game in the four-game set and also snap their own five-game losing skid.
The Fightins got started quickly against lefty Adalberto Mejia in the bottom of the first inning, taking a 2-0 lead.  Albert Cartwright led off and singled past third base.  Carlos Alonso followed with a bunt-single and Mejia walked Brock Stassi to load the bases with nobody out.  Mejia then induced a pop-up in foul territory from Sebastian Valle.  However, Richmond catcher Tyler LaTorre dropped the ball, allowing Valle to continue at the plate.  He took advantage, sending a two-run double up the third-base line.  Both runs were unearned against Mejia.
The Squirrels got plenty of help from the Fightins as they stormed back in the top of the second.  Angel Villalona got the Squirrels started with a double up the left-field line.  Right-hander Perci Garner then walked Ricky Oropesa and Devin Harris put Richmond on the board with an RBI single to left field.  Garner then walked LaTorre to load the bases.  Myles Schroder followed and sent a ground ball to first base.  Brock Stassi misplayed it and another run scored on his error.  Mejia then brought in the third run when he grounded into a double-play.  LaTorre then came in when the catcher Valle scooped up the baseball with his mask.  LaTorre was awarded the plate on the infraction, technically ruled an error on Valle.  Richmond had a 4-2 lead with three of the four runs unearned against Garner.
Richmond tacked on another run in the third when Villalona and Oropesa provided back-to-back singles to start the inning.  Garner then walked Harris to load the bases.  LaTorre followed and grounded into a double-play with Villalona scoring on the play for a 5-2 lead.
Garner lasted just 3 1/3 innings, conceding five runs – three earned – on five hits.  He walked a season-high matching six and struck out just one.
Mejia steadied himself and worked without further incident into the sixth inning.  However, he issued a one-out walk to relief pitcher Ryan O'Sullivan and was lifted from the ballgame.  Right-hander Jose Casilla and recorded the second out of the inning.  He then issued a walk to Alonso to put two aboard.  Stassi then chopped a two-run double over first base to make it a one-run ballgame, 5-4.
The Fightins tied the game against Casilla in the seventh.  Aaron Altherr notched a single – his third hit of the day – to get things started.  Casilla then threw wildly on a pikc-off attempt at first base and Altherr advanced all the way to third base on the error.  Anthony Phillips then knotted the ballgame with a sacrifice-fly to center field.
Reading seized control in the eighth.  Righty Andrew Carignan had control issues and eventually walked the bases loaded before giving way to Edwin Quirarte with two outs.  Peter Lavin greeted him with a bases-clearing double through the left-center field alley.  All three runs were charged to Carignan (0-1) as he endured his first loss as a Squirrel.
Fightins' righty Kyle Simon (1-1) earned the win in relief, working two scoreless innings to finish the ballgame.
The Squirrels continue their week-long road trip as they travel to Trenton, NJ, to open a three-game series with the Trenton Thunder (New York Yankees) on Tuesday night.  First pitch at ARM & HAMMER Park is scheduled for 7:05 p.m.  Richmond LHP Ty Blach (3-3, 2.97) will make the start against Reading RHP Bryan Mitchell (1-3, 4.37). TheFlying Squirrels Pregame Warmup begins at 6:35 p.m. on Sports Radio 910 and SportsRadio910.com.