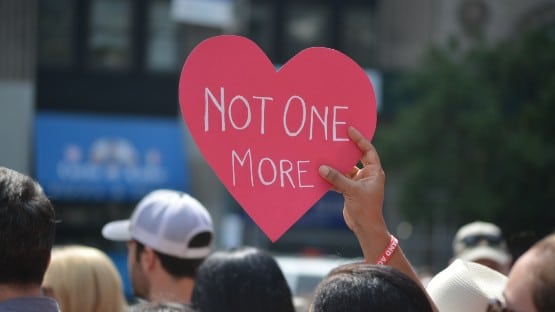 Augusta County resident Randall Wolf is organizing a rally on National Gun Violence Awareness Day Friday from 4-6 p.m. on the lawn outside the Augusta County Courthouse in Staunton.
Wolf, a Democrat, who ran previously for Virginia House of Delegates and the Augusta County Board of Supervisors, believes government's number one job should be safety and security.
"Gun violence is the issue of the past 22 years, and we must get a handle on it for people to feel safe in our society when shopping, at a community gathering, a place of worship and schools," Wolf said. "Our students fear being shot at school."
Wolf said he was inspired to do something after reading on AFP about two activists being told to take down signs by a county employee during a gun-control protest in April.
Wolf cited the streak of mass shootings taking place around the nation and said he "thought it was time for a bigger statement and seeking accountability."
The first Friday in June each year is a time where advocates are encouraged to "wear orange" through the weekend.
Wolf said he "felt it was an opportunity to bring likeminded people together and push for change."
He said he chose Friday for the event for great impact – when the courthouse is open, when sheriff deputies are on duty and when the Commonwealth's Attorney and his staff are working.
"I'm hoping about 30 people or more will be there wearing orange to make a clear statement to bring people together to stop the needless deaths of our neighbors," Wolf said.
Wolf, the politician, on a new approach to address gun violence
Wolf, who is running for the House of Delegates in the 36th District as a Democrat, said he has a new idea to address gun violence – enacting a 30 percent excise tax on the sale of all guns and ammunitions in Virginia.
The added revenue, he said, could "be used for things affected by gun violence such as background checks, gun buyback programs, securing our schools and other government buildings, victim support and crisis mental healthcare.
"We use excise taxes for other social ills, such as cigarettes and alcohol," he said. "My hope is this reduces the sale of guns and ammunition, that out-of-state purchases drop, and that the people who need large amounts of funds to address this have the budgets they need."
Wolf said he also supports banning the sale of assault style weapons and would work to reduce the maximum clip size to under 15 rounds per weapon.
In 2021, Virginia sold 620,267 guns ranking them 7th in the nation. In the last two decades, dating back to 2000, more than 2,000 people have been killed in mass shootings. Gun deaths, including homicide and suicide, is now the leading cause of death for children and teens in America.
"I want sensible gun laws to protect people. I'd like to see the Extreme Risk Law used to save lives," Wolf said. "I'm fine with guns being used for hunting, self-protection and competition. But weapons designed for war, using weapons to intimidate, and amassing an arsenal, are things we do not need in general society."
Other rallies
The Augusta County rally appears to be one of many being hosted in Virginia and nationwide.
Alexandria: Virginia Moms Demand Action and Students Demand Action, in partnership with the Everytown for Gun Safety support fund, will host a rally on Friday at Market Square, 301 King St., in Alexandria, starting at 7 p.m.