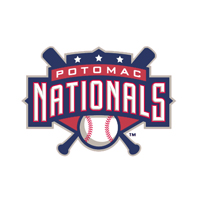 The Potomac Nationals (8-7) swept a makeshift doubleheader on Saturday night against the Myrtle Beach Pelicans (10-7). The first game, a resumption of the game suspended from June 27th, saw Potomac win 11-6. Game two supplied late drama when SS Stephen Perez slapped an extra-inning single to right field to lift Potomac to a 1-0 victory.
Game one picked up in the top of the fifth inning with Myrtle Beach holding a 6-3 lead. The Nationals were technically the road team due to the suspension of the game, and RHP Blake Schwartz (W, 2-0) tossed all five innings that were played during the game today. In his outing, Schwartz gave up three hits and three walks without allowing a run to earn the win.
Down 6-3 to start the day, Potomac's offense bolstered the team to victory with five runs in the sixth frame and three in the seventh. The scoring started with a LF Mike McQuillan two-run home run off RHP Ryan Bores (L, 0-1). Later in the inning, DH Tony Renda and 1B Shawn Pleffner offered up RBI hits of their own to give the P-Nats an 8-6 lead.
In the seventh, Renda singled in C Pedro Severino. After a Perez walk to load the bases, 3B Oscar Tejeda blooped a single into shallow right to score two more, bringing the Nats' run count to 11.
In game two, the P-Nats and Pelicans were deadlocked in a pitching and defensive masterpiece. Nationals' starter RHP Austin Voth and Pelicans' hurler RHP Jason Knapp combined to toss ten innings between them without allowing a run. Neither one would receive a decision however. Voth went six and struck out seven Pelicans allowing just three hits. Knapp was just as good over four innings as he fanned eight.
In the third inning, Potomac had two runners pegged at home plate by the Pelican defense. With one out, 3B Luis Mendez cut down RF Estarlin Martinez at home. In the next at bat, Pleffner drove a double to the wall in left, but the relay to home that went 7-6-2 torched Perez for the third out.
After the scheduled seven-inning affair was not enough to determine a winner, the P-Nats stepped up in the bottom of the eighth against LHP Martire Garcia (L, 1-1) who already had three scoreless innings under his belt. Renda reached base with one out on an infield single. During the next at bat, Garcia fired a pitch to the backstop to move Renda to second. Perez then pushed a single into right field that scored Renda without a close play to give Potomac the 1-0 victory.
Nationals' LHP Chris Manno (W, 2-0) retired six of the seven batters he faced including four strikeouts in relief.
The Potomac Nationals Baseball Network, which is accessible at www.potomacnationals.com, will broadcast the final game of a four game series against Myrtle Beach on Sunday, July 6th. Broadcast coverage will begin with the P-Nats Leadoff Show at 5:50pm in preparation for the 6:05pm start. A pair of lefties will duel tomorrow when P-Nats' LHP Matthew Spann (5-3, 4.45) squares off against LHP Andrew Faulkner (6-1, 2.35) for Myrtle Beach.