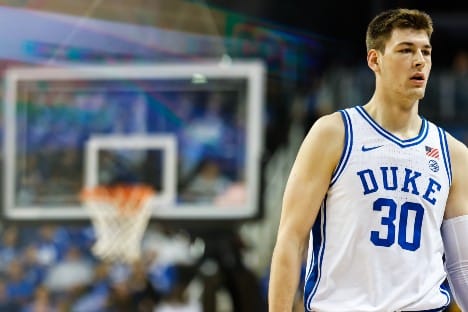 Duke led 12-0 three minutes in, and another 12-0 run to start the second half erased whatever little bit of doubt existed thereafter.
The fourth-seeded Blue Devils eviscerated the five seed, Pitt, 96-69, in a game that was nowhere near that close.
The highlight of the two hours spent in the arena ostensibly keeping tabs on this one for me: trying to escape the upper-level media section just before the start of the second half to get a quick snack, and almost getting hit in the head by trombones sliding back and forth as the Pitt band played the school song.
Seriously, I had to hit the floor and crab walk my way out of there.
No injuries were reported.
Duke (24-8), which has now won seven straight, shot 62.1 percent for the game, and that was with coach Jon Scheyer going deep to his bench for the final five minutes, and those guys going 2-of-8 down the stretch.
It was hard to tell if Pitt (22-11) was worn out from having had to play on Wednesday, or if Duke was just that much better, because this was never a game.
And that may not be good news for the Panthers, who despite finishing in a tie for third in the ACC regular-season standings haven't entirely sewn up an NCAA Tournament bid, with a NET ranking in the upper 50s.
I would think that the 4-4 record in Quad 1 games and 7-10 mark in Quad 1 and Quad 2 games would be enough, but it's going to be an uneasy next few days for coach Jeff Capel and his guys.
For Duke, it's off to the ACC Tournament semifinals and a date with the tournament's top seed, Miami (25-6), a 74-72 winner over Wake Forest earlier in the day on Thursday.
KenPom.com has Duke a slight one-point favorite.
The teams split in the regular season, Duke winning at home, 68-66, on Jan. 21, and Miami winning in Coral Gables, 81-59, on Feb. 6.