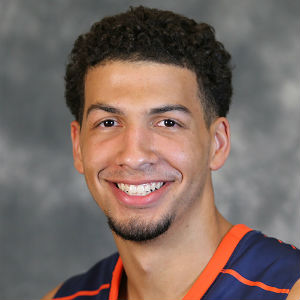 Anthony Gill is a tweener, they say, and that's the worst thing you can be as an NBA prospect, a tweener.
Basically, being a tweener when you're a big means you're not big enough for your skillset, a strange thing for a guy who is 6'8", 230 with a motor and three seasons of shooting 58 percent from the field for a top-five program.
But Gill, a recent graduate of the University of Virginia, isn't on anybody's NBA Draft radar right now, and won't be come draft night, for whatever reason.
Gill is an afterthought among afterthoughts, in spite of being an elite post player in the rugged ACC, and playing three years in the most demanding defensive system in amateur basketball for a coach with NBA pedigree in Tony Bennett.
The D alone should sneak a guy like Gill into the late second round. The tweener knock itself should be immaterial at this point, for a good reason.
Watching the NBA Finals the other night, play-by-play man Mike Breen pointed out how Golden State and Cleveland both prefer to play small, and that as he was talking, the biggest guys on the floor were LeBron James (6'8") and Draymond Green (6'8").
Both were playing point forward, in essence, differently, of course, with James initiating offense through dribble drives, and Green either distributing from the top of the key or from the post, back to the basket.
Both guys were playing stretch five, if there is such a position, responsible for protecting the rim on the back line of the defense, but also able to cover guards on switches on pick-and-rolls as needed.
Um, hello, playing three years as a big in a Pack-Line has you prepared to do, what, exactly? Oh, yeah, hedge on pick-and-rolls, cover guards in switch situations, protect the back line when dribble-drives break into the paint, and initiate offense from the post, back to the basket, sometimes, and other times with athleticism to create something out of nothing.
Anthony Gill can do all of that, and I'm not just saying he can do that; he did it for three years against the best the ACC has to offer.
The idea that this guy doesn't fit into the NBA is injustice.
Column by Chris Graham