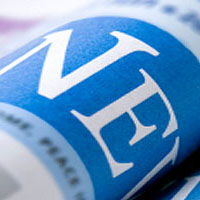 Moonshine has come a long way, from the hills and hollows of Appalachia to the front and center of Virginia's fast-growing artisanal spirits industry.
According to reports, moonshine sales by Virginia's Department of Alcoholic Beverage Control rose 107 percent in 2013 to more than 24,000 cases.
Harking back to Colonial times and steeped in folklore, moonshine is distilled from fermented grain, typically corn. It is so named because it often was made at night to avoid detection by tax agents. Legal moonshine production in Virginia today, however, is more entrepreneurial than outlaw. The upswing in legal sales mirrors the growing interest in small-batch, artisan-made craft beer, vodka, bourbon, brandy, hard cider and wine.
Tom Copenhaver of Davis Valley Distillery in Rural Retreat is one such artisan. He and fellow distiller Dewey Snavely make their Appalachian Moon brand "the old-timey way" in a pot still, using corn from the distillery farm's own fields. Owners Rusty and Ruth Rhea Cox also operate Davis Winery.
"We distill it twice for smoothness, using water from a 500-foot deep limestone well," Copenhaver said. He also makes moonshine varieties flavored with peaches, strawberries, apples and cherries. The moonshine is bottled in that time-honored vessel, the canning jar.
"From the very beginning, the owners wanted to use local products from local farmers."
Chris Cook, assistant director of rural development for the Virginia Farm Bureau Federation, has been assisting the distillery.
"I think anything that can add value to a commodity has to be good for Virginia producers," Cook said. "Using corn to distill into moonshine (legally) is just another great example of entrepreneurial producers adding value to the crops that they grow."
The distillery also produces Virginia Frost vodka, sold with the moonshine at the farm's in-house ABC store. Far from hiding the operation under cover of darkness, the distillery offers tours and tastings.
It's clear that, with Virginia moonshine, the entrepreneurial spirit still lives.