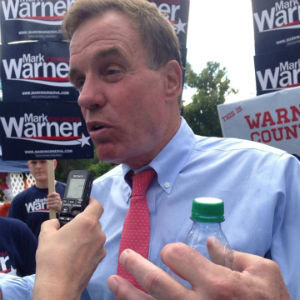 All year long, Mark Warner has been such a heavy favorite in his Senate re-election race that the race has barely been polled. And then things tightened up a bit, not to a point where the Democrat should be uncomfortable, but even so.
A new University of Mary Washington poll out this week has Warner ahead of Republican Ed Gillespie by a 10-point margin, after leading by as many as 25 points in polls in the early summer, and as significant as the tighter margin is the fact that Warner is not over 50 percent.
Warner gets 47 percent to Gillespie's 37 percent, with Libertarian Robert Sarvis at 6 percent.
Before Republican partisans get too excited about the Sarvis 6 percent number, assuming that his voters will peel off for their guy because most third-party candidates lose a large portion of their support from the polls to Election Day, remember that Sarvis polled consistently in the 6 to 8 percent range in his 2013 governor's race, and ended with 6.5 percent in finishing a distant third behind Democrat Terry McAuliffe and Republican Ken Cuccinelli.
That said, Warner isn't at 50 percent, Gillespie is within 10 points, and this is with Gillespie getting almost no support from big-money Republicans, whose focus in the effort to win a majority in the Senate has been on places like Iowa, Alaska, North Carolina and New Hampshire, among others, in races deemed more competitive.
Republicans need a net gain of six seats to win a Senate majority. Virginia is still not worthy of being on the radar for an upset win for the GOP in 2014, but the fact that Mark Warner, among the more popular politicians in Virginia history, is engaged in a race that will likely close in the single digits says a lot about the political winds in this midterm cycle.
– Column by Chris Graham