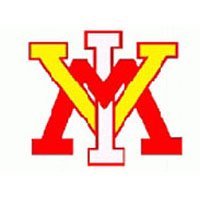 Brandon Angus had three hits, but Aaron Myers of the Longwood Lancers scattered six hits over eight scoreless innings to send his team to a 3-0 victory over the VMI Keydets in Big South baseball action Saturday in Lexington, Va. With the win, Longwood prevailed in the series two games to one.
Saturday's series finale was a pitcher's duel between Myers and Andrew Woods until the sixth inning, when Brandon Delk blasted a two-run home run to left field to put the Lancers (16-24, 6-12 Big South) ahead 2-0. Longwood would then add a run in the seventh to account for the final margin.
Myers moved to 5-3 with the win after striking out five and walking just one in his 107-pitch effort that came just one day after throwing 17 pitches to get the save in Friday night's contest. Woods, meanwhile, dropped to 5-2 with the loss, as he allowed two runs on seven hits over 5 1/3 innings. Scott Burkett pitched a 1-2-3 ninth for his first save.
Both pitchers cruised through the first two innings before Longwood mounted the game's first threat in the third inning. Mac McCafferty walked with one out and Brandon Harvell followed with a single, but Woods got back to back fly outs to end the inning.
VMI (21-16, 9-9 Big South) then threatened in the bottom half when singles by Tanner Dofflemyer and Angus put two on with two out, but Kyri Washington made a diving catch in left field of a Cameron Walter line drive to retire the side.
Longwood finally broke through in the sixth against Woods, when C.J. Roth led off with a single to center. Delk then followed by hitting the first pitch over the left field wall for his eighth home run of the year, giving the Lancers a lead they would not relinquish. Longwood put runners at second and third with only one out later in the inning, but Campbell Henkel relieved Woods and struck out Alex Owens and McCafferty to escape further damage.
VMI moved Angus, who had reached on a single, to third in the sixth but failed to get him home and Longwood added on in the seventh against Taylor Edens. Colton Konvicka singled with one out and stole second. Roth then singled through the right side, scoring Konvicka to put the visitors up, 3-0.
The Keydets had one final rally as they threatened in the eighth. David Geary had a bunt single with one out and Angus walked, bringing Walter to the plate as the tying run. The first baseman flew out to right center on the first pitch, retiring the side.
At the plate, Roth and Scott Burkett had two hits apiece for Longwood while Angus was the only player with multiple hits for VMI.
VMI baseball returns to action Tuesday, facing James Madison in Harrisonburg. First pitch is set for 6:30 p.m.