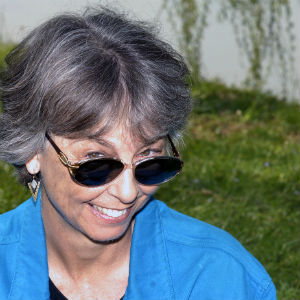 Chris Bolgiano is a self-described "mildly amusing nature writer" and a retired special collections librarian who resides in Fulks Run, Virginia. These authentic identities – citizen scientist, wide-ranging chronicler, and Appalachian mountain woman – converge in her literary works. From books to essays and nature and travel articles, her ouvre is as diverse as the woodland habitats she roams in and writes about.
Bolgiano will read and comment on her work Nov. 6 at a Writers Read event in the Common Grounds Coffeehouse at Eastern Mennonite University. The talk, which is free for the EMU community, begins at 6:30 p.m. The public is welcome, and donations are requested. Light refreshments will be available.
Bolgiano writes on her blog that after retiring from James Madison University, she "muddled into a so-called writing career," yet her second career has earned many accolades.
"Like many good writers, Chris Bolgiano is fully committed to her subject, which is the protection and sustenance of Appalachian forests," said Mike Medley, chair of the language and literature department at EMU. "More than many writers, however, her prose radiates a passion that compels its readers to embrace the same cause. Her books should be required reading for anyone living within a day's driving distance of the 13 million or more acres of ecologically rich national and state forests that grace the eastern United States."
Bolgiano's most recent book is Southern Appalachian Celebration: In Praise of Ancient Mountains, Old-Growth Forests, and Wilderness (2011).
Prior to this, Bolgiano published five books. Mighty Giants: An American Chestnut Anthology (2007) won the 2008 Independent Publisher Book Award, Silver, for Best Regional Non-Fiction. In addition, Living in the Appalachian Forest: True Tales of Sustainable Forestry (2002) was awarded the Southern Environmental Law Center's Reed Memorial Award for Outstanding Writing on the Southern Environment and the Virginia Outdoor Writers Association's Excellence in Craft Contest.
She has also written nature and travel articles for The New York Times, Washington Post, American Forests, Sierra, Audubon, and many other publications, including the 50th anniversary history of her hometown Ruritan Club.
"We are fortunate to have Chris as a writer and advocate in this region, and are excited to have her come share with the EMU community," said Doug Graber Neufeld, professor in EMU's biology department. "Her local knowledge conveys a sense of wonder for the beautiful Appalachian forests, and her passion for the local environment inspires those who hear her speak, and who read her books. Chris demonstrates that intense love for place that comes from intimately knowing your local environment, and encourages us to strive for the same."
Mighty Giants and Southern Appalachian Celebration are available through Nov. 10 in the language and literature department office at Roselawn. Copies will also be available for purchase and signing at the event.
Article by Lauren Jefferson. Photo courtesy of Chris Bolgiano.