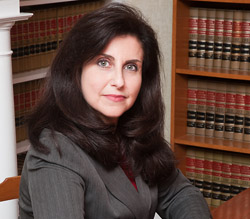 Sen. Emmett W. Hanger, Jr. (R-Mt. Solon), Del. R. Steven Landes (R-Weyers Cave), Del. Dickie Bell (R-Staunton), and Del. Ben Cline (R-Amherst) announced today their support of Linda Schorsch Jones for the appointment as Juvenile and Domestic Relations District Court Judge for the 25th Judicial Circuit.
The Augusta Bar Association deemed Ms. Jones as one of four selected individuals they endorsed as "highly qualified" for this position.
"Anytime we have the responsibility to elect a judge to serve the citizens of the Commonwealth, we must look at the quality of their resume, character and personal demeanor," said Hanger. "For this J&D seat, we had several excellent candidates who all would have done well and brought their own strengths to the bench. The consensus is Linda's background, specifically her work in Family Law as well as her community service on behalf of our schools, various boards and service as a Guardian Ad Litem exemplify her knowledge of the law and dedication to families and children. These qualities are the keystone of the Juvenile and Domestic Court."
"One of the most important responsibilities of the legislature is the appointment of judges in the Commonwealth," Cline said. "As a former domestic violence prosecutor, I know how critical it is to have strong juvenile and domestic relations judges.  Linda Jones is an accomplished juvenile and domestic relations attorney, and she will do an outstanding job on the bench."
Linda Jones has been in private practice with the Waynesboro firm of  Poindexter, Schorsch, Jones, & Hill, P.C. since 1991. She was made a partner in the firm in 1994. Prior to those years, Ms. Jones served as Assistant Commonwealths Attorney in the Harrisonburg Commonwealth Attorney's Office. She has practice experience in Family Law which includes child custody, visitation, child support, divorce, equitable distribution, spousal support, and adoption. Ms. Jones has been active in her community and currently serves as a member of the Waynesboro School Board.
Hanger represents the 24th Senate District serving Augusta, Greene, Madison, Staunton, Waynesboro, and part of Culpeper and Rockingham. Landes represents the 25th House District, which includes parts of Albemarle, Augusta, and Rockingham Counties. Bell represents the 20th House District serving Highland, Staunton, Waynesboro and part of Augusta and Nelson Counties. Cline represents the 24th House District which includes Bath, Buena Vista, Lexington, Rockbridge and part of Amherst and Augusta Counties