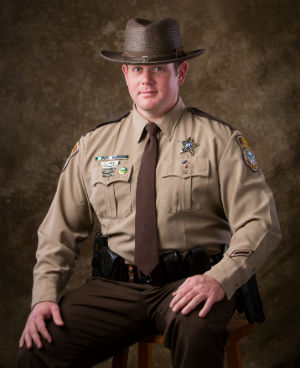 The Nov. 3 election is fast approaching and this letter is to reach out to those voters who are yet undecided in regard to who to vote for Augusta County sheriff.  Our area is fortunate to have four outstanding candidates to choose from, however, for those voters who do not know one of these gentlemen personally or professionally, the decision as to who to vote for can be quite a difficult one.  There are many rumors and innuendo's surrounding each of these candidates and the sheriff's office as a whole but as a citizen of Augusta County, I feel it is imperative that we not listen to this type of negative information but instead concentrate on what each candidate stands for and what he hopes to bring to this most important office if elected.
I am fortunate to know one of these candidates and have known him all his life and that is Donald Smith.  I have gone to church with him and his family and have witnessed on numerous occasions Donald going out of his way to assist or help someone who is in need.  Donald has a real care for those who are elderly or deficient in some manner.  If one could only see how lovingly he treats his own grandmother and this carries over to others he comes in contact with.  Donald has helped on several occasions when he has "arrested" our minister in front of our entire congregation in order to place him in "jail" to help raise funds for our youth groups mission trips.
Donald's goal since he was in high school has to become sheriff of Augusta County.  He has prepared himself since graduation by joining the sheriff's department, going back to school and earning an associate's degree from Blue Ridge Community College and then transferring to Liberty University where he received a bachelor of science degree in criminal justice.  During this time he has also taken numerous classes related to his duties as a deputy and assistant SWAT commander and he is currently the only certified explosives expert in our area.
Donald grew up on a farm where he learned from an early age the value of hard work and commitment. He still manages to integrate his duties with the sheriff's department while running over a hundred head brood cow operation, which by the way, is how he paid his way through school.
In conversations I have had with Donald, he comes across as both humble and willing to listen to those who might know more than he does.  He realizes that in order to be a successful Sheriff he will have to surround himself with good people and people who are smarter than he is in certain areas.  He has said that he plans to garner relationships with other sheriffs in counties such as ours so that he will have someone experienced to call when an issue arises that he is unsure of.
Donald has many good ideas that he wants to implement if he is fortunate enough to become our sheriff.  I ask that you visit his website to learn of these and contact him with any questions you may have.   I know for a fact that Donald's primary and most important goal if elected is to protect each and every citizen of our county and he will strive to do whatever may be necessary to do so.
I ask that you consider voting for Donald Smith in this upcoming election.
– Letter from Danny Link/Mount Sidney