It was single domination on Wednesday during the NCWTS race for Kyle Busch. On Friday night, he doubled up with a win in the Xfinity Series Food City 300 at Bristol Motor Speedway.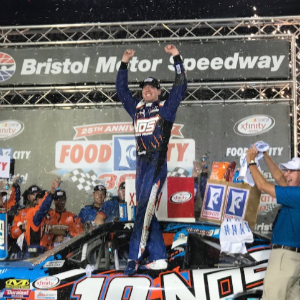 Now, Busch will look to go for the triple on Saturday with the Bass Pro Shops Night Race for the Monster Energy Nascar Cup Series race. If he pulls it off, it will be nothing new for Rowdy, since he has already pulled off the triple sweep feat before at BMS.
But how Busch won on Friday night was almost identically scripted as the like the Wednesday night's race; he received a speeding penalty on pit road and was relegated to the back of the pack in 19th on the lead lap.
And like a shark that senses blood in the water, Busch went into attack mode after the penalty at the end of Stage 1 and started picking off his competitors one by one over the course of 58 laps to take Stage 2 and put himself in position for another victory on the World's Fastest Half Mile.
"At least I didn't have to come through in the last stage because everybody was pretty fast there tonight in the last stage," commented Busch, following the race.  "I don't know if I would have been able to make it all the way back up through there."
Busch led a race-high 186 of 300 laps in the race enroute to his fifth Xfinity win of the season,  his ninth overall at Bristol and the 91st of his racing career.
Now "Rowdy" goes for the sweep in Saturday's Monster Energy NASCAR Cup Series Bass Pro Shops Night Race, a feat he last accomplished back in 2010.
When asked if he thinks he can do it and make it a sweep once again, Busch smiled and replied, "I think we can, yeah. We've got a fast car. We just have to make the right adjustments overnight here and get it ready for tomorrow."
Busch will start 18th off the grid in Saturday night's race.
Daniel Suarez, Busch's Joe Gibbs Racing teammate, finished in second place, 1.181 seconds behind Busch with Xfinity series points leader Elliott Sadler finishing third and clinching a playoff spot.  Ty Dillon and Justin Allgaier rounded out the top five.
Dale Earnhardt Jr. finished 13th, one lap down, in his first Xfinity race since a win at Richmond in April of 2016. Earnhardt was treated after the race for dehydration and hand cramps in the infield care center with fluids.
The Xfinity series travels to Road America, on August 27 to take on the 4.048-mile road course in Elkhart Lake, Wis.
By Rod Mullins/Augusta Free Press