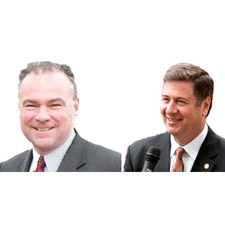 George Allen sees the debt-ceiling issue as "leverage" for Republicans heading into the 2012 elections. Tim Kaine has raised issue with Allen on that stance, and on Friday Kaine offered a statement of support for Senate Democrats for their 51-46 party-line vote rejecting the so-called "Cut, Cap and Balance" plan that passed the Republican House earlier this week.
"I applaud the Senate's rejection of the Republicans 'All Cuts, No Balance' legislation," said Kaine, a Democrat and former governor and presumptive Democratic Party nominee to run for Virginia's open U.S. Senate seat in 2012.
Allen, also a former governor, is the frontrunner for the Republican Senate nomination in 2012. Allen has offered consistent support for GOP efforts at brinksmanship on the debt-ceiling issue. President Obama and congressional Democratic Party leaders have raised the spectre of the federal government going into default if the debt limit isn't raised by an Aug. 2 deadline.
Economists have suggested that the absence of a congressional agreement on raising the debt ceiling could also have disastrous effects on the U.S. economy.
"In 11 days, our country will reach its legal debt limit and, absent action in Washington, we will face drastic and lasting economic consequences. It's time for Washington to put aside ideology-driven legislation like the "All Cuts, No Balance" proposal and do what is right for our nation: raise the debt ceiling to allow government to pay our bills and work toward a balanced approach to reducing spending and reducing the deficit," Kaine said.