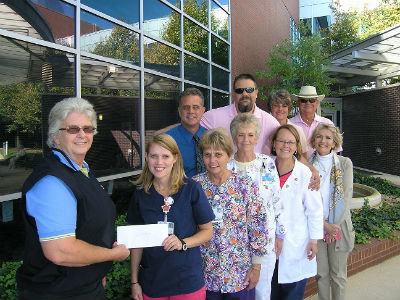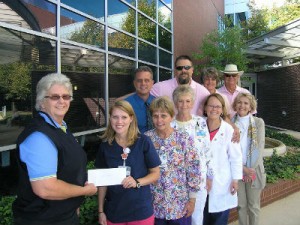 Ingleside Resort, the Eagles Aerie 608, and the Augusta Health Foundation sponsored the Jeff Earhart Memorial Golf Tournament on October 4 to support Augusta Health's Breast Cancer Fund.
Ninety-six golfers turned out on a chilly morning to raise over $2,000 for this cause—100% of which will go to support the care and treatment of breast cancer patients. The tournament was held in memory of Jeff Earhart, whose family is pictured here. Jeff was a beloved member of the community who lost his life last winter. His mother, Mary Ellen, who is an RN at Augusta Health, said that Jeff always wore his pink ribbon with pride during Breast Cancer Awareness Month.
Pictured: Lou Moore of Ingleside Resort presents the check from the proceeds of the golf tournament to Kelley Brooks and Lisa Sullivan of the Women's Imaging Center. Also pictured are (front L-R):  Mary Ellen Earhart (mother of Jeff Earhart); Meg Shrader (Breast Navigator, Cancer Center);and Margaret Wood (Augusta Health Foundation). Back row: Brad Johnson (Director, Cancer Center); Tim Earhart (brother of Jeff Earhart); Sandy Puffenberger (Eagles Aerie 608); and Bernie Earhart (father of Jeff Earhart).