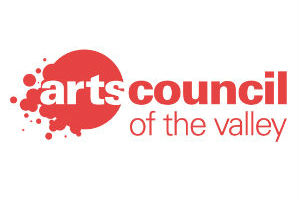 Twelve venues plan to offer arts experiences during Arts Council of the Valley's First Fridays of the Valley on August 5.
Visitors may use online resources including a newly updated map, to plan their evening routes.
Harrisonburg venues hosting arts events August 5 (5-7 p.m. unless otherwise noted):
Arts Incarnate (75 N Mason St) invites you to enjoy Works by Laura Pogoretskiy from 4 to 7 p.m. with wine and other refreshments.
The Friendly Fermenter (20 S Mason St.) holds an opening – beginning at noon – for a photographic exhibition, Remembering Jack Gatesman. From 7-9:30 p.m., enjoy live music by Travis Valle. Beers, bar bites, and non-alcoholic beverages are available for purchase.
The Gaines Group at The Depot (141 W. Bruce St. Suite 201) hosts an opening reception for Method in Madness, featuring photography by Aaron Zook.
Harrisonburg-Rockingham Chamber of Commerce (800 Country Club Rd) welcomes you to an opening reception for the Art by Andrea exhibition of illustrations and paintings by Andrea Konstant.
Horizon Gifts (60 W Market St) highlights mixed media works by Shelley Boyers during a 5 to 8 p.m. opening reception. Meet the artist and enjoy live music by Troutmouth.
Hotel Madison & Shenandoah Valley Conference Center (710 S Main St) holds a 5-8 p.m. artists reception for SVWS Watermedia, featuring watercolor, acrylic, and mixed media works by Shenandoah Valley Watercolor Society Signature Members. The JMU Jazz Combo provides live music in the hotel lobby, with food/beverages available for purchase at Quill's lobby bar and Montpelier Restaurant.
OASIS Fine Art and Craft (103 S Main St) invites you to Colors of Nature, an exhibition of glass, copper, and handmade paper by artists Barbara Camph, Shelley O'Connor, and Sally Ridgway. Meet the artists and enjoy live music by the Countryside Garage Band.
Sage Bird Ciderworks (325 N Liberty St) offers a 5-8 p.m. artist reception for Horizons, an exhibition of oil paint on paper by Martha Putney. Meet the artist and sample free charcuterie fixin's in the North Wing Gallery; cider is available for purchase. Enjoy live jazz from 7 to 9 p.m. with Gabe Ravel & Friends.
Smith House Galleries (311 S Main St) invites you to an opening reception for Herb Weaver: Still Pondering. Sponsored by Herr & Co., the reception offers a chance to meet the artist, sample light refreshments, and enjoy live Americana vocals and acoustic guitar by Jane Cox. Smith House Galleries is open Monday-Friday, 11 a.m. to 4 p.m., and Second Saturday (another chance to meet the artist Aug 13, 10 a.m. to 2 p.m.).
Ten Thousand Villages (181 S Main St) holds an opening reception for Clean Candles, an exhibition of handcrafted candles in a variety of sizes and scents by Andrea King.
Virginia Quilt Museum (301 S Main St) invites you to help create a Community Crazy Quilt each month during First Fridays of the Valley. Materials and instructions are provided.
Wilson Downtown Gallery (83 S Main St) hosts an artist reception for Color Banter: Exploring Blue Ridge Inspired Dreamscapes in Contemporary Color, an exhibition of traditional paintings on stretched canvas by Jessie Y. Shelburne. Light refreshments provided.
Support for First Fridays of the Valley and other Arts Council of the Valley programs is provided by 2022 Cultivating the Arts platinum sponsors Kathy Moran Wealth Group, Matchbox Realty and Riner Rentals.
For more information, visit valleyarts.org.