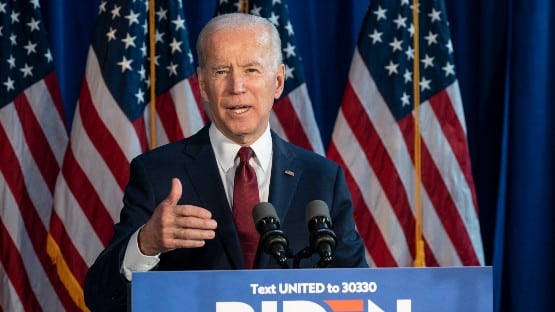 President Biden gave West Virginia Sen. Joe Manchin another political triumph with the Mountain Valley Pipeline.
The president agreed to include provisions to greenlight the 303-mile pipeline that stretches from West Virginia through Virginia and into North Carolina in the debt-ceiling deal.
The move, the latest in a long line of appeasements from Biden to keep Manchin in the Democratic Party fold, made the provision practically politically invulnerable, given the tight deadline to get the debt-ceiling deal passed.
Virginia Sen. Tim Kaine tried to get the language removed from the deal on Thursday, but his amendment to do so was defeated by a 69-30 vote.
The capitulation from Biden to Manchin earned the president sharp criticism from environmental groups after the debt-ceiling bill passed late Thursday night.
Action Network is leading a #StopMVPNow rally scheduled for June 8 at the White House to demand that Biden stop the Mountain Valley Pipeline.
"Lawmakers in Congress should never have been given the false choice between economic collapse and approving a sweetheart deal for one fossil fuel company," said Michael Town, executive director of the Virginia League of Conservation Voters. "The Mountain Valley Pipeline's inclusion in this must-pass bill was incredibly cynical, and we know what comes next: more environmental devastation from an irresponsible developer, and more pain in Southwest Virginia.
"We are incredibly grateful for the leadership of Sen. Tim Kaine, U.S. Rep. Jennifer McClellan, and Virginia's entire Democratic delegation who fought hard to keep the MVP out of this deal. But it never should have come to this – lawmakers in Congress are not permitting agencies or seated judges. With Congress's thumb now on the scale, the people most impacted by this project, who have been standing up for their communities, have been marginalized. They deserve better," Town said.
"Our global movement to stop the Mountain Valley Pipeline is stronger than ever," said Denali Nalamalapu, communications director of the Protect Our Water, Heritage, Rights Coalition. "While we are outraged and devastated in this unprecedented moment, we will never stop fighting this unfinished, unnecessary, and unwanted project. Our hearts are broken, but our bonds are strong."