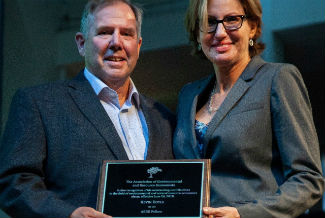 Receiving the highest honor from a respected academic association is a once-in-a-lifetime experience, but having that honor bestowed on you by a long-term mentee is almost surreal.
Virginia Tech Professor Kevin Boyle experienced that phenomenon recently at the World Congress of Environmental and Resource Economists in Gothenburg, Sweden, where he was named a Fellow of the Association of Environmental and Resource Economists.
"It was an emotional experience," said Boyle, a professor in the Department of Agricultural and Applied Economics in the Virginia Tech College of Agriculture and Life Sciences. "A person I had mentored presented the award and made some comments about our working relationship that were very moving. And the ceremony was in front of the best people in the profession from all around the globe – many who were also deserving and could have been chosen."
The award, which was presented by Laura Taylor, president of the association, recognizes individuals who have made "outstanding contributions to the advancement of the profession" and is awarded to no more than three people annually.
Taylor, who first met Boyle as a graduate student at North Carolina State University, where Boyle did a year-long sabbatical, underscored Boyle's numerous research contributions along with his ongoing support of students, young professionals, and peers as an audience of almost 1,000 watched.
Boyle's work over the past 30 years has helped establish an entire area of research that aims to value natural resources such as clean air and fresh water. Along the way, he has helped develop several major nonmarket valuation techniques, instituted experimental standards, and increased the validity of resource value estimates.
"It's been challenging to work in this area because a lot of people are really skeptical of nonmarket valuation," said Boyle. "Environmentalists believe you shouldn't put a dollar value on nature and industry is against it because it limits what they can do."
However, Boyle has used these challenges to motivate his work on resource value validation to show that estimates using nonmarket value techniques are credible and that people really do make choices based on environmental conditions that affect their wellbeing.
"I've seen nonmarket valuation grow from infancy to maturity as an area of academic study, as well as a policy tool," said Boyle, who has devoted his career to resource valuation. "My goal is to put the best information on the table for the public benefit."
According to Boyle, people imply values for specific resources based on the choices they make. And those choices can affect property values, help arbitrate litigation, and inform the public, as well as policymakers.
Studies like one commissioned by the United States Environmental Protection Agency to explore the effect of air pollution on property values are common for Boyle, who selects projects that have public significance.
"It's work that improves the quality of life for current and future generations," Boyle said.
But another big driver for Boyle is finding projects and opportunities that help graduate students succeed during and after their academic journey. And having an old mentee bestow your highest honor upon you as the president of a respected academic association is just one perk.