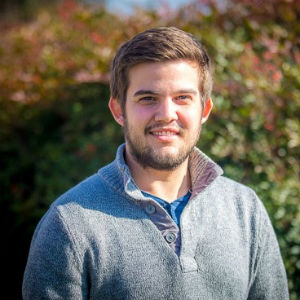 Alex Miller, a 21-year-old economics major at Eastern Mennonite University, was recently recognized by Mennonite Economic Development Association (MEDA) as one of "20 Under 35 Changing the World."
Working for the family-owned ecommerce retailer JMX Brands, Miller completed a 1.5-year project that hugely increased company return on marketing investment. He has also been involved since 2013 in MEDA chapters in his hometown of Sarasota, Florida, and with the Shenandoah Valley chapter.
Though accepting of the notice that has come with the award, Miller says he hopes to make both a bigger and better difference in the years to come. His EMU economics coursework, he adds, as well as his early and successful experiences both in the family business and with MEDA, has given him the confidence that he will eventually accomplish that goal.
"The idea of learning to lead in a global context was really important to me," says Miller, who transferred to EMU from Florida State University. "I really feel like EMU would prepare me for making a difference in the world, whether it's small or large … I've been raised that way and I want to start a business and grow that business in a way that I'm proud of and in a way that causes other businesses to want to join me."
Recognition of ethical business practices and leadership among young professionals was one reason MEDA created this award in 2014. Recipients "embody an entrepreneurial spirit and embrace a desire to make a difference in the world," according to a MEDA press release. This year, nine Canadians and 11 Americans were selected. Everence, a faith-based financial services organization, sponsored the initiative.
"We're recognizing an incredible class of young professionals this year," said Ethan Eshbach, coordinator of engagement initiatives, in a press release. "These individuals are exemplary leaders in their churches, communities and businesses. Their business acumen, commitment to faith and passion for service is truly humbling."
Among mentors
Miller accepted the award at the Nov. 5 annual convention in Richmond, Virginia, which he attended as part of a small delegation of EMU students.
He was familiar with the "20 Under 35" award because he had attended the inaugural awards ceremony at the 2014 Winnipeg convention, and met several of those recipients. Three EMU alumni were among the inaugural class: Andrew Derstine '11 and Scott Hackman, MDiv '13, both of Souderton, Pennsylvania, and Lydell Steiner, MA '14 (conflict transformation), of Dalton, OH.
"I had a chance to meet that group of people and I really looked up to them," Miller said, "so it was a complete surprise to be among them this year."
Being the youngest of the 20 recipients caused a bit of immediate anxiety. "These are people who own their own businesses and manage businesses and some of them are economists," Miller said. "I was nervous about being with them, until I realized that they are just a few years ahead of me in terms of starting a career. It was very inspiring to meet them and see myself doing similar things in several years."
Early interest in business
Miller has always wanted to go into business, as he grew up around several family members who involved in entrepreneurial endeavors. Among them is his father Jim Miller, a graduate of Goshen College with a master's in organizational management from the University of South Florida.
The former pastor (he gave a sermon on authenticity at the 2014 MEDA conference) started JMX Brands in 2003. The company is a niche Internet retailer, selling over 10,000 different products on a variety of websites, including www.DutchCrafters.com. The company's corporate values include social responsibility and sustainability.
Miller began working in the company warehouse when he was 11, "packaging and other small, menial tasks," he says. He eventually moved to the company's information systems, writing product descriptions and most recently, took over internal management of pay-per-click campaigns in order to increase ROI.
After about six months of research and "tweaking," Miller says he started to "realize the difference between real ROI and what companies will try to sell you on." Six months into his management, the company made a small profit and nearly 1.5 years later that "small profit" had grown to a 400% ROI.
ROI may be one focus of Miller's future. He's played with the idea of founding a marketing agency that will help small and medium-sized businesses understand and maximize their ROI strategy.
"'And I have a couple of other ideas," he says with a grin. One of those that didn't pan out was subjected to a mock business plan in Professor Tony Smith's Topics in Business class. "Taking that class that had us create a business plan raised all these questions and eventually we could see it wasn't going to work…a really good experience, I think."
Whatever Miller learns and plans for his future, he'll share with his dad. "He's my mentor, and he loves business. We talk about it all the time. Other family members get tired of hearing us at the dinner table … but we just keep on talking."
Story by Lauren Jefferson