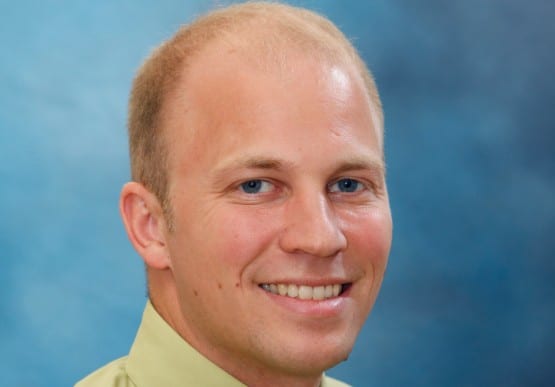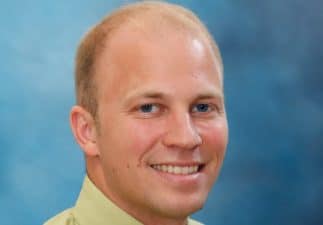 Sentara Timber Way Health Center's Dr. Jordan Hill is the recipient of the 15th annual Sentara RMH Golden Stethoscope Award.
The award, announced every year on National Doctors' Day on March 30, recognizes outstanding physicians on the Sentara RMH Medical Staff who demonstrate excellence in patient care, customer service, communication and teamwork.
"Considering how fortunate we are to have so many outstanding physicians locally, I am greatly honored to be recognized by my coworkers and peers for this award," Hill said. "This recognition would certainly not be possible without the help of a team of incredible nurses and support staff. I am blessed beyond measure."
Hill, who grew up in the Shenandoah Valley, joined the Sentara Timber Way in 2010 and received more than 20 nominations this year. Submissions mentioned Hill's ability to connect with his patients on a personal level and described him as "caring and compassionate" and "a great mentor and coworker."
"In working with Dr. Hill for over 10 years, I have found him to be very focused on providing exceptional care to the community," Sue Miller, Sentara Timber Way Health Center practice manager, said. "He puts his patients' needs first and works with them to improve their quality of life."
Miller said Hill is a wonderful physician and also a leader in the clinic.
"He gives great feedback to staff and is always willing to educate them to help form a more knowledgeable team. Dr. Hill is always willing to try new and innovative ways to provide care and improve outcomes for patients. He is very deserving of the Golden Stethoscope award," Miller said.
Sentara RMH has more than 400 physicians, and received 115 Golden Stethoscope Award submissions on behalf of 46 individuals.
"It's always great to see so many of our dedicated physicians receiving nominations and read the stories behind the submissions," Dr. Robert Garwood, Chief Medical Officer of Sentara RMH, said. "This year, we are honored to recognize Dr. Hill's exceptional commitment to our community. He not only exhibits a great deal of respect, care, and regard for his patients but also for his coworkers. He constantly takes the time to be courteous while teaching and instructing his team members. He excels in the areas of communication, teamwork, patient care and lending a personal touch in customer service — exactly what the Golden Stethoscope Award embodies."