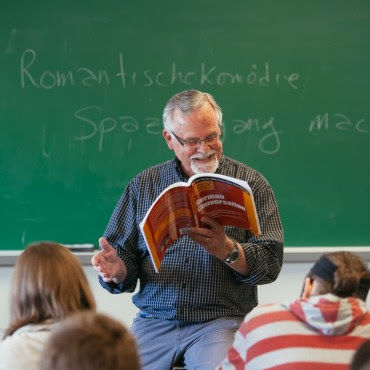 In correspondence with EMU News, Don Clymer doesn't once mention that his future plans include continuing to blog after he retires from teaching at Eastern Mennonite University, but we hope he does.
On the "Klymer Klatsch," Don, a professor of language and the author of three books, offers regular trenchant writings about a variety of topics, ranging from spiritual reflection to memoir-ish mini-essays and cultural criticism. Here readers can read somber reflections on Holy Week, learn that Don is a Phillies fan, and enjoy, vicariously, the Clymer Christmas, a mixture of Swiss, American and Mexican traditions that symbolizes the many cultures he's experienced.
Don also maintains a website which contains links to published articles and information about his books, including a new release titled "Malinda in Mexico," for 6-14 year olds.
Don has taught several languages at EMU for 17 years full time and five years as an adjunct. He also spent five years as director of cross-cultural programs. Among his EMU service, he also spent one year as manager of WEMC, EMU's radio station.
His EMU years are just the tip of a larger professional "iceberg": Don had been director of communications for the Virginia Mennonite Conference and Board of Missions, and a professor at Hesston College before landing in Harrisonburg. He has a total of 35 years in higher education.
The crossroads of his wide-ranging interests are where languages, communication, cross-cultural relationships and spiritual formation come together; visit Klymer Klatsch or his eponymously named website and you get the sense that the nature of his explorations are more like a round-about than an intersection.
Among his fondest memories of his time at EMU, he says, are "leading various student groups on their semester-long cross-cultural programs" and "working with a number of students as an unofficial mentor related to matters of spirituality and their relationship with God." Both of these opportunities have been extremely rewarding, he says, as he feels "like I have made a significant impact on their lives."
Don's immediate future plans include spending a year in Switzerland, the native country of his wife, Esther Reichenbach Clymer. He'll also lead spiritual formation workshops for Bienenberg Mennonite Bible School in Liestal, close to Basel, Switzerland (Don's most recent degree was a Master of Arts in Church Leadership from Eastern Mennonite Seminary in 2008).
He has a few writing projects on the agenda, as well as work on the English translation of a Swiss German play.
"I may also be involved in volunteering with some refugee organizations," he says.
And hopefully, blogging about it all.
Story by Lauren Jefferson