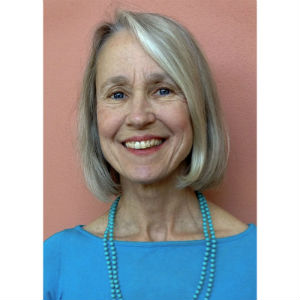 Writer, activist, retired teacher and new grandmother April Moore is now also State Senate candidate April Moore.
"Not at all long ago, I'd have been astonished to think I'd be here announcing my candidacy for public office. But here I am," said Moore, who formally announced her candidacy for the 26th Senate District seat currently held by Republican Mark Obenshain.
Moore will run as a candidate, and is currently the only candidate in the race for the Democratic Party nomination.
Obenshain did not face an opponent for re-election in the last campaign cycle, in 2011. First elected to the 26th District seat in 2003, Obenshain was the GOP candidate for attorney general in 2013, narrowly losing that race to Democrat Mark Herring.
Obenshain is widely presumed to have the inside track to the 2017 Republican Party gubernatorial nomination, and it hasn't hurt that he has been virtually unchallenged in the bright red 26th. Obenshain won his first election to the seat in 2003 with 67.9 percent of the vote, and won re-election in 2007 with 70.4 percent of the votes cast in that cycle.
Moore, the wife of 2012 Sixth District Democratic congressional nominee Andy Schmookler, knows that she faces an uphill battle.
"It's a question of, how motivated are the people? If the people are motivated to give our government back to the people, away from the big money that is increasingly taking it over, then they'll respond. I need to get my message out there so that more people hear what I have to say and have a chance to join the movement," Moore told the Augusta Free Press in an interview Tuesday.
She announced her candidacy earlier in the day at an event in Harrisonburg in which she cited the births of her two grandchildren last year as pushing her to get more active in the political realm.
"I was already concerned about what the scientists have been telling us about climate change – that it is real and that it is urgent that we act now to address it. But now I've got these two adorable little ones in my life, and it feels especially urgent. Because the scientists tell us that — if we don't act responsibly — the consequences for them, and for all our children and grandchildren, could be terrible. I can't bear the thought of these innocents suffering because we were too blind, or too busy, or too corrupt to care," she told supporters at her campaign announcement.
Talking later with AFP, Moore said she is concerned with how Richmond seems to have been purchased by the highest bidders, and how the highest of the highest bidders seems to be Dominion Virginia Power.
"Our founders gave us the great gift of democracy. And as I look at what's going on in our state legislature, it's painfully obvious that big money is buying the people's government, taking it away from us, and that we are losing our precious democracy. I find that extremely alarming, and I see how our legislators seem to do the bidding of the big corporations, like Dominion Power. Dominion Power is by far the largest donor to our legislators, and they draft their own legislation. Instead of our legislators monitoring Dominion so they don't gouge their customers, it's the opposite. Dominion is telling our legislators what it wants, and they deliver," Moore said.
Dominion has been in the news in the Valley lately with its push to build a new pipeline cutting through the western part of the state through Central Virginia in a project that has inflamed a firestorm of controversy from a coalition of groups spanning the political spectrum.
The controversy could be opportunity for Moore to build a bipartisan coalition.
"The issues that I'm running on are not liberal or conservative. It is a basic American question of, who is our government serving, the people or the money? I feel that liberals and conservatives in our district feel that way. I think that people who traditionally vote Republican feel that way, but I think they're not aware that Mark Obenshain supports the big money interests," Moore said.
In the here and now, Moore is playing catch up. Her late entry into the race has her behind the 8-ball, to say the least.
"There are a great many people who have expressed interest in helping with the campaign," Moore said. "I have a volunteer coordinator who is going to be working with me to make the best use of all the volunteers. Several people have offered to host meet and greet events. I'll be doing a lot of fundraising by phone and other ways. I really want to get my message out there."
– Story by Chris Graham